The Magic Of Excalibur
Published on the 16th of February 2017 by Susanne Bösche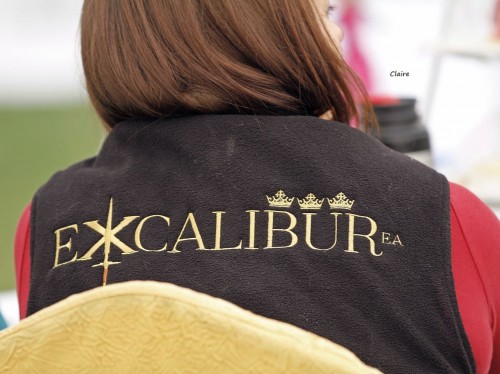 Who doesn't know the Arthurian legend? They were glorious times of chivalry. Knights and Ladies are said to have devoted themselves to express noble virtue such as loyalty, generosity, justice, and honour. Excalibur was the magical sword of King Arthur, associated with the rightful sovereign.

Wouldn't it be wonderful if an Excalibur were to be found today, giving an impetus to such a golden age in our modern times?
The magic of the Sword is still alive, in different ways. It recently conquered the desert in form of the glistening white stallion Excalibur EA. The 2014 European Triple Crown Winner Excalibur EA continued his global success story and achieved Abu Dhabi International Unanimous Gold Champion Senior Stallion.
Born 2011 inside Equus Arabians, Spain, owned by Alberto Sorroca, is the rightful heir of his fabulous sire 2016 Dubai Gold Champion Senior Stallion Shanghai EA, continuing the legacy of the WH Justice – Magnum Psyche sire line.
Excalibur's dam is Essence Of Marwan EA, a chestnut daughter of Marwan Al Shaqab out of Elizja by Esta-Ghalil, adding more Polish and Spanish influence to the pedigree.
Being only six years old, Shanghai EA already travelled the world. He was leased to Albidayer Stud, UAE, as a yearling and then went to Butler Training Center in North Carolina, USA, where Ted Carson took care of the dazzling young colt. Excalibur EA claimed U.S. National Champion Yearling Colt and later Scottsdale Champion International Arabian Breeders' Classic Two-Year-Old Colt before he moved again to become a part of Estancia Las Rosas, Uruguay. His first foal crop was born in 2014, when Excalibur EA himself returned to European soil competing for champion honours, Tom Schoukens at the lead. This adventure ended with the Triple Crown.
Since November 2016 Excalibur EA is back in the Middle East, adorning the stables of Al Hawajer Stud, UAE. Ready for more adventures!
Another magic moment was caused by a mare with exactly this name, DA Magic Moment. Sometimes it does not need a worldwide-celebrated champion to cause joy and pleasure beyond all measure to a breeder. The Arabian Horse shows are not only about the global players, but also about the hobby breeders, who are the backbone of Arabian horse breeding worldwide.
When her dazzling white WH Justice daughter DA Magic Moment won the class of 4 to 9 years old mares in Abu Dhabi, her breeder Cornelia Kolnberger, Austria, burst with pride. With her charm and powerful movements, DA Magic Moment not only won her class for her new owner Mr Nasser Mohammed Mesfer Al Hajri, Qatar, but also bested D Shahla, 2015 World Champion Junior Filly.
DA Magic Moments represents three generations of Cornelia Kolnberger's breeding program Diamond Arabians, based on the solid, chestnut Narew daughter Riva out of Rawayeh by Kais I and tracing back to famous Rodania. Cornelia wisely selected top stallions to build a precious family. In combination with famous Kubinec Riva gave DA Karisma, who was crossed with DA Esstaan, himself a son of European Triple Crown Winner Essteem. The resulting foal was chestnut DA Enfidha, dam of DA Magic Moment and several more precious fillies, garnering the stables of nobles in the Middle East.
This is a wonderful testimony of a carefully built mare line, which can cause a lot of magical moments.