Amazing Start Into The 2017 Show Season
Published on the 7th of January 2017 by Susanne Bösche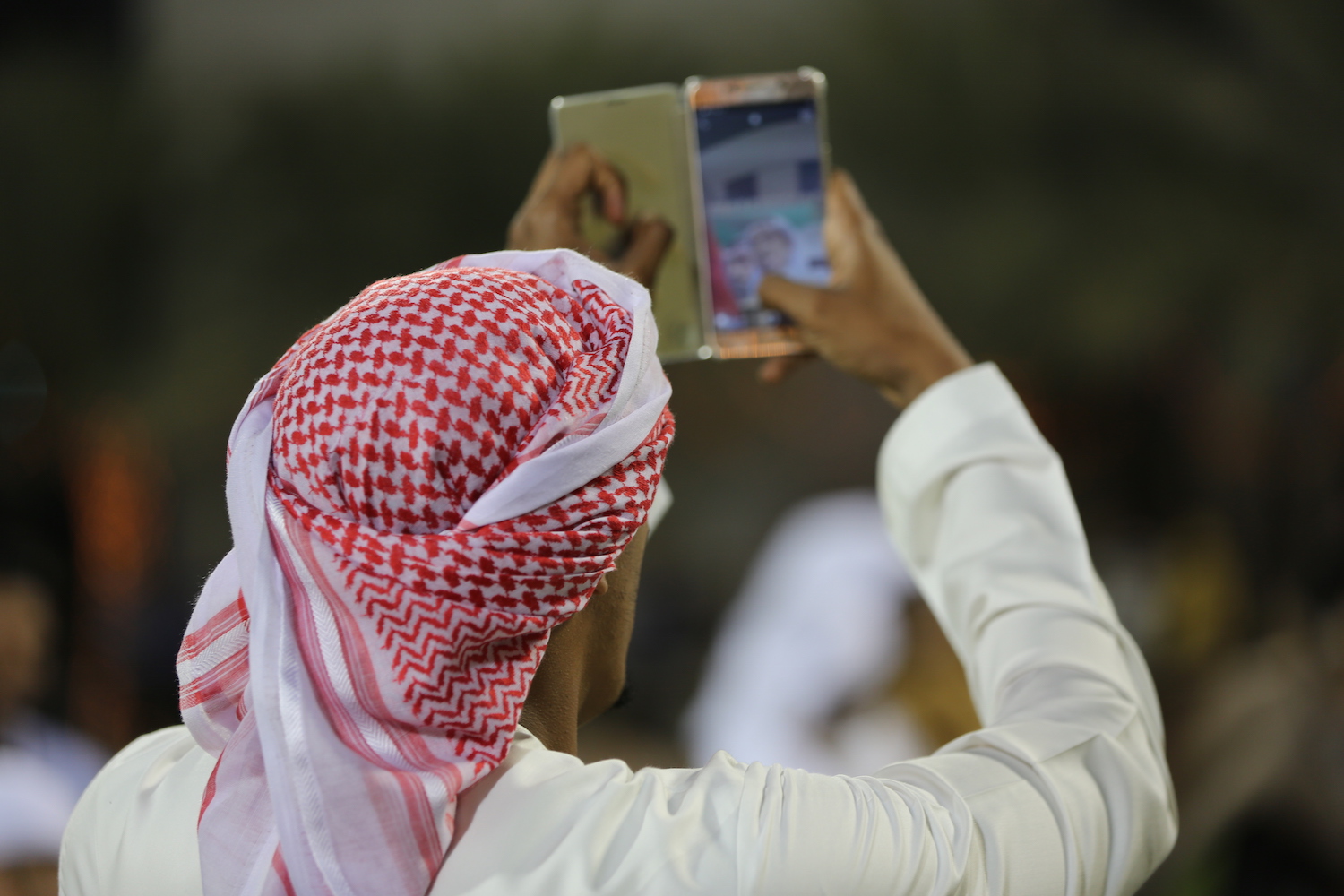 "It is really, really amazing," says Nakashen Valaitham, Arabian horse enthusiast and social media writer, about his first trip to Ajman, UAE. Before the Ajman Arabian Horse Club opened its doors to welcome the Ajman Arabian Horse Show, a wonderful exhibition of Arabian horses hosted by HH Sheikh Amaar Bin Humaid Al Nuaimi, Nakashen had the chance to visit Sheikh Amaar's Ajman Stud.
"It a gorgeous stud farm," Nakashen tells, "seeing the photos and videos and enjoying all the Ajman beauties in real life is completely different. And having Frank Spönle and Elisa Grassi, explaining everything is just an awesome experience I will treasure my entire life."
Khalid Ghanem, general manager of Ajman Stud, was also responsible for the Ajman Arabian Horse Show. "We're doing this show since 15 years and we started with 70 horses or so," Khalid explains. "Meanwhile we have more than 300 entrants. Many new people came into the Arabian horse community and they learned a lot on the past years. It is no longer just buying a horse and going to a show, but they learned what is a good and how to make wise breeding decisions.
Somebody who made a very wise breeding decision in 2015 was the Duch family of Haras Lonco, Chile, crossing HP Shakir TE with Lonco Baby Maria. And Nayla Hayek, Hanaya Arabians, from Switzerland made another wise decision, when she bought the resulting colt from this mating: HL El Ganador, who walked away with the highest score of the entire show (93,13 points) and 2017 Ajman Show Unanimous Gold Yearling Colt.
For Al Zobair Stud it was an amazing start into the new show season, too. Their S.M.A. Magic One daughter Nahawand Al Zobair received 92,30 points, the highest score of all fillies. In the junior fillies championship Nahawand Al Zobair was only bested by D Masah, a bay daughter of FA El Rasheem. However, Al Zobair Stud's mare Klassical Devotion MI by Klass took the win in her class and in the senior mares championship at her first show appearance in the UAE; with the high score of all females at the show (92,50 points). While Ghaith Al Zobair by RFI Farid won Gold Champion Junior Colts and Njoud Al Zobair by Shanghai EA won Silver Champion Yearling Filly.
Dubai Arabian Horse Stud was a strong competitor, as always. D Masah's stablemate and paternal half sister D Mumayyazah went away with Gold Champion Yearling Filly. Dubai Arabian Horse Stud also won the Bronze Champion Yearling Colt title with another FA El Rasheem offspring, the chestnut D Shallal. The lovely Royal Colours daughter D Nawal was named Silver Champion Senior Mare.
Gulfa Stud, proudly owned by Saoud Al Shraiqi Ali Dhai Khalifa Al Kaabi, took a great victory with their five years old stallion Rebal, who was named Gold Champion Senior Stallion. Rebal is a grey son of U.S. National Champion Stallion Marajj out of the Emigrant daughter Bidayer, bed by Albidayer Stud. Silver went to Al Bustan Stables' BS Raeed and Bronze to Al Aryam Bare'e.