The Key To Success
Published on the 6th of February 2017 by Susanne Bösche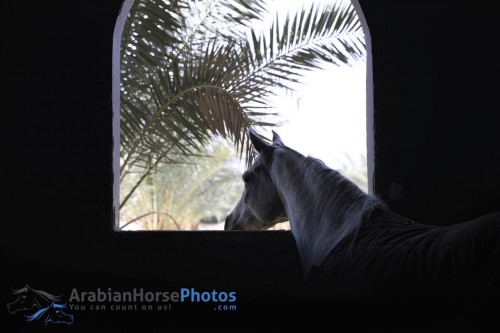 "Success is not the key to happiness," Albert Schweitzer once said. "Happiness is the key to success." Watching Mr Hamdan Rashed Al Khashab surrounded by his horses, it is easy to see the happiness and joy they bring to his life. His passion is obvious and because he loves what he is doing he is successful.
At the Kuwait International Arabian Horse Festival Al-Khashab horses enjoyed notable success and it was time to celebrate. Following the old and honored tradition of hospitality in Middle East, Mr Hamdan Al Khashab invited everybody to his perfectly organized Al-Khashab Stud Open House.
Under a clear blue sky festively and white decorated tables in front of palm trees were waiting for visitors. The guests were not only entertained with refreshments but also with a farm tour, including the breeding center built within the past five month. It offers a special designed breeding chute, a semen collection station, a laboratory to evaluate the semen quality for the first time. It is exclusively designed and a central points of the breeding center; here the breeding manager has everything at a glance. A second, clean laboratory offers the opportunity to freeze the semen and to do embryo transfer. Everything takes into account the high standard of the horses, the technique is corresponding to the horses. The collaboration of a breeding expert and a businessman is obvious in this part of the farm.
Tom Schoukens of Schoukens Training Center, Belgium, presented all the horses to an international group of visitors. The freshly crowned 2017 Kuwait International Bronze Champion Senior Mare SA Minerva impressed the people, just like her stablemate, 2016 European Silver Champion Mare Majeedah CF.
The elegant grey Shanghai EA daughter Cap Bianca out of Arabians Blanca received amazingly 92,40 points at the Kuwait Internationals and pleased the Open House audience with a lot snort and blow.
The already strong Arabian horse community in Kuwait keeps growing and Al-Khashab Stud is one of its international players. By now, Arabian horse lovers can look forward to new and exciting plans as Al-Khashab Stud is planning to have an auction around February 2018. Maybe another key to even more success.
Meanwhile enjoy our after movie of Al-Kashab Open Day.