Welcome To The Casket
Published on the 8th of February 2017 by Susanne Bösche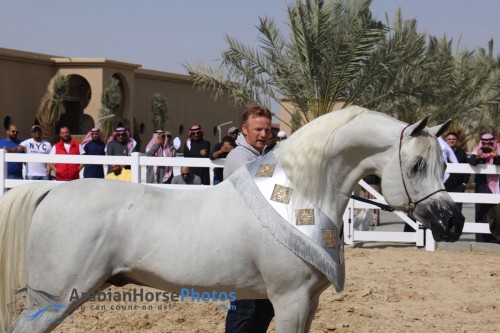 The doors swung wide open to welcome visitors from many countries for the very first Al Wawan Open House. The brand new built stud farm still breathes an air of progress. Mr Ali Al Wawan, proud owner of Al Wawan Arabians, created this farm to offer his four-legged jewels a suitable and fine casket.
Knowing Mr Al Wawans' ability to select his horses with unerring good taste Arabian horse lovers followed his invitation in joyful expectation. The Al Wawan show string came straight from the showground of the Kuwait International Arabian Horse Festival to their new home and joined their stablemates. Since it was established a few years ago, Al Wawan accommodates almost 90 horses in the modern though typical native styled barns. A professional and carrying team enhances the well being of the horses. The well-equipped facilities offer everything a horse's heart could wish for, including a pool and many fully white fenced paddocks separated by a palm-tree-lined avenue.
The Arabian horse community in Kuwait is something special as it offers a striking friendly cooperation and mutual support. Mr Ali Al Wawan did not limit his passion about Arabian horses to certain bloodlines and did benefit from synergies and from the experiences of longtime breeders and their programs.
Among the Al Wawan jewels is the bay QR Marc daughter Sylvatica K.A., 2017 Kuwait International Silver Champion Senior Mare. Sylvatica's dam Sharm DS is Egyptian bred, sired by 2016 World Platinum Champion Male Royal Colours and out of Shagara DS, one of the precious El Thay Ibn Halim Shah daughters, tracing back to Moniet El Nefous.
The male counterpart is strong bay AB Magnum son Alfonzo out of San Jose Alfonsina, 2017 Kuwait International Bronze Champion Senior Stallion and 2011 Kuwait National Champion Stallion and Leading Sire of the 2014 Kuwait Arabian Horse Breeders Show. Alfonzo's' sire AB Magnum is not only by Magnum Psyche but also out of Echos Love Song, a granddaughter of Aladdinn. This influential Polish monarch can also be found on the maternal side of Alfonzo's' pedigree through San Jose Alfonsina's sire Hafati Express. Showy, sweet and handsome Chilean National Supreme Champion San Jose Alfonsina herself came all the way from Chile to become a wonderful broodmare for Albidayer Stud years ago.
Excitement, applause, championship honors are fantastic, but the excitement of breeding your own champion is something completely different. In the near future, Al Wawan Arabians will concentrate itself more and more on breeding. Mr Ali Al Wawan knows, bloodlines are key, and so are mare families.
In any case, it will be interesting to watch this progress. Instead of saying, Mr Ali Al Wawan is a privileged and lucky man owning such outstanding horses; we would wish him he might be always with luck in the breeding barn.