Boiling Pot Of Entertainment
Published on the 16th of April 2017 by Susanne Bösche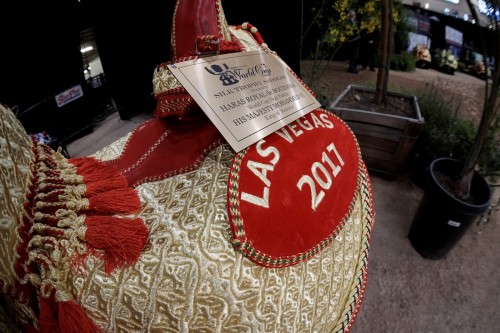 "Las Vegas is the boiling pot of entertainment." – Donald Jay "Don" Rickles (1926 – 2017), Primetime Emmy Award-winning stand-up comedian, actor, and author
The sincere gratitude of the Arabian Horse Breeders Alliance (AHBA) Founding Members was paid off again in the eleventh edition of the Las Vegas Arabian Breeders World Cup. This dedicated people accomplished their soaring goal.
The AHBA founding members wanted to establish a forum for breeders with a family friendly though an international show with a special scoring system on North American soil. Other types of forms of creativity only create something new and amazing; therefore it was just a consistent decision to establish this world-class extravaganza named Arabian Breeders World Cup in Las Vegas - the boiling pot of entertainment.
"I just love coming to Vegas. There is always a good energy here; the minute you get off the plane, it is happy," actress Kelly Carlson once said. "Every experience I have had here is fun, and everyone is in a good mood; they are happy, and they let it go."
Not only Kelly Carlson and other international celebrities love coming to Las Vegas. In March it is the hot spot of the Arabian horse scene, truly international and entirely exquisite. The elegant and exciting atmosphere, the fantastic equine facilities are a proven venue and they offer just the right setting for the most beautiful Arabian horses bred by dedicated people.
One of these devoted breeders is Chen Kedar of Ariela Arabians, Israel, whose stallion Laheeb can be found in the Gold Supreme Champion Junior Filly Fanaticaa, through the sire Al Raheb AA. Raymond Mazzei, who housed Laheeb at his Furioso Farm in California for a while, has bred the dapple grey, exquisite Fanaticaa. "Laheeb personifies all that is treasured in the Egyptian Arabian: unsurpassed breed type, dignified presence, an ultra-exotic, perfectly proportioned head, a high set, gracefully arched neck, superb balance and strength of coupling, smooth shoulders and quarters of good length, strength and slope, a well muscled, horizontal topline with a highly placed and proudly carried tail," Raymond Mazzei says. By breeding the Laheeb son Al Raheb AA – a full brother to former ANC and World Champion Stallion Al Lahab – to Faleenah Al Masr, Raymond Mazzei combined two strong Straight Egyptian Arabian mares, The Vision HG with the famous Babson mare Bint Aaroufa. Fanaticaa is on lease to Owaidah Arabian Stud, Saudi-Arabia, and just proved what Straight Egyptian Arabians can do on this high show level.
Laheeb is also the great grandsire of the Gold Supreme Champion Yearling Filly Om El Erodite by EKS Alihandro; this time on the female side of the pedigree. Om El Erodite is out of the wonderful Om El Excella by Al Lahab. With 1.55 Million USD this grey filly, bred by Om El Arab International, was the high seller of the 2017 Marquise Auction in February. Patricia M. Dempsey, Beloved Farm, took much of the Arabian horse community by surprise with her record-setting purchase. However, Patricia Dempsey wanted this superstar filly to stay in the USA and she succeeds. What a great elation during the award ceremony, Om El Erodite surrounded by a happy group of people, including her breeder Janina Merz with her cute three years old son Luca on her hips and smiling Patricia Dempsey, who received the award from another superstar and long-time Arabian horse breeder: Wayne Newton.
Beauty is a fragile commodity and a precious gift. Seeing refined bay Fadi Al Shaqab trotting so powerful through the ring, carefully handled by his breeder Michael Byatt, no one may believe that the beauty of this nine-years-old stallion is fragile. However, former World Champion Stallion Fadi Al Shaqab is definitely a precious gift - given from Michael Byatt to Al Shaqab Stud. "He is such an important horse in my life," says Michael Byatt, "with both, his father Besson Carol and his mother Abha Myra being born at my farm." Al Shaqab Studs manager Sheikh Hamad Bin Ali Al Thani was at the show following Fadi Al Shaqab's steps all the way to Senior Stallion Gold Supreme Championship. After receiving the laurels, Sheikh Hamad took over the lead and showed Fadi Al Shaqab by himself to the excited public.
The Arabian Horse Breeders Alliance also presents a Lifetime Achievement Award, honouring a breeder who made an outstanding contribution to the breed. Previous winners Judith Forbis and Wayne Newton handed over the trophy to Sheikh Hamad bin Ali Al Thani, who accepted the award for His Highness the Father Emir of Qatar, Sheikh Hamad bin Khalifa Al Thani, founder of Al Shaqab Stud, which celebrates its 25th anniversary in 2017.
Michael Byatt also handled the Senior Mare Gold Supreme Champion winner, Ghazala Al Shahania. "Ghazala represents the most successful, beautiful horses of our time," Michael Byatt comments, "and she does it perfectly!" How right Michael Byatt is. Ghazala Al Shahania is a precious grey by one of the most influential bay stallions of modern Arabian horse breeding, Marwan Al Shaqab. This five years old mare, Ghazala Al Shahania, inherit her silvery shining coat from her dam, the grey Majalina by bay Besson Carol out of grey Majalis by bay Ali Jamaal. Interesting, isn't it. From the same strong grey dam line came Badiaa Al Shahania, by Marwan Al Shaqab out of Majalis, Las Vegas Gold Champion twice and another silver grey jewel, of course.
The Arabian Breeders World Cup is an event created by breeders for breeders. Therefore there had to be a special award, which resulted in the AHBA Breeders Cup Award to honour those who have most successfully represented the Arabian horse world, through their offerings at that year Arabian Breeders World Cup. In 2017, HE Sheikh Jassim bin Khalifa Al Thani of Aljassimya Farm was presented with the cup after their runaway breeders victory with eleven homebred horses awarded Top Ten or higher in the championships. An amazing success for Aljassimya Farm, which has been breeding horses now for six years, the fifth foal crop being born in 2017.
"The idea of this year in Las Vegas was to make sure the world recognize we are breeding our own horses and are serious about it, "explains Bart van Buggenhout, Aljassimya Farm's manager. "We are a young organisation, in breeding terms only just lifting the feet of the ground but with determination and direction. Winning this breeders cup was a nice gentle push in the back to continue doing what we are doing. What was especially great was the result in the four auction classes. The Las Vegas show provides yearling and 2-year-old-auction-classes for colts and fillies. The way to participate on it is to provide the auction with a breeding of your stallion; you can then in return use one breeding of that stallion or buy a breeding from another stallion. You need to choose your combination in advance and provide the organisation with your choose before its born. Aljassimya won the Champion title in three of the four classes. This by itself is a great result as its not played by numbers of breeding but just plainly by one to one breeding. More amazing to result was that all three of these champions where born out of one and the same mother: The WH Justice daughter Miss Surprice and with three different stallions. Miss Surprice is also the dam of 2016 World Gold Champion Junior Filly Mai Aljassimya and furthermore won this year the Dam produce class in Scottsdale. She is a beyond prized broodmare and her produce has won over the last two years over 80 000 USD in prize money just in Vegas."
Why does a globally renowned breeding program like Aljassimya Farm cares for the amateur classes? "The amateur classes are the backbone of our industry, and they are absolutely necessary for the survival of the breed and for the creation of the diversity of it," Bart says. "We need to put more effort in them as it provides a market and a place for our horses to go to. As a breeder you need to be realistic … very few of your crop each year will be making it to an A-level show and be good enough to be shown by professional trainers. In the old days when our industry was healthier and more spread out with a proper qualification system and a pyramid ranging from C national shows to A international shows in Europe, we had much more people involved showing horses. The top breeders seem to be using the same few lines, more or less. Aljassimya Farm has committed great support towards creating and reliving this diversity by committing the AJF Amateur challenge in Europe, a project with future."
Besides the Futurity classes that all need to be amateur handled Aljassimya Farm showed some more horses in the amateur classes with the amateur handler Adam Rickhard. "Adam has a rather intensive job in the social welfare dealing with children," says Bart. "I have the greatest respect for what he does and understand that Arabian horses and showing them are a pleasant relief for the stresses he has in his job. Adam did a great job with showing the horses to the best they can and with excellent results winning several more classes and ending up with the Silver Senior Champion Mare and Filly for amateurs to handle."
When the eleventh Arabian Breeders World Cup closed its doors, no one doubted that Las Vegas is the boiling pot of entertainment, not only for stand-up comedians, musicians, gamblers, and movie stars – but for Arabian horse enthusiasts and breeders, too.
Follow the link to find all results, videos and photos, click here