Arabian Horses At Home
Published on the 17th of February 2017 by Susanne Bösche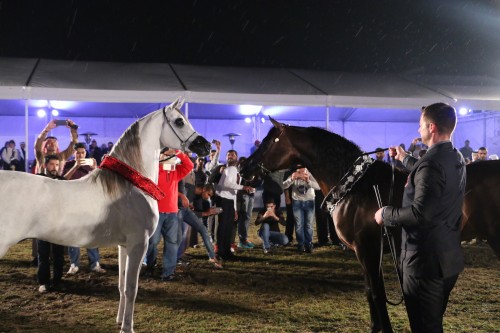 We all know the heroic stories of Bedouin warriors mounted on courageous war mares attacking enemies. This is history, of course, but for many people in the Gulf region it is a main part of their own history.
The ancestors of HH Sheikh Isa Bin Hamad Bin Salman Al-Khalifa rode horses in combat. The horses that survived these fierce battles became the foundation stock of the Royal Stud of Bahrain, established in 1783. This stud farm is a kind of 'living' history in Bahrain.
While the Royal Stud still overs a unique collection of 19 desert bred families in recent years private stud farms have been established, based on various bloodlines. The culturally and historically rich island Bahrain is opening up and pushing internationalisation in many areas: Formula 1 or an International Garden Show are just two examples. The same goes for the Arabian horse scene in Bahrain.
HH Sheikh Isa Bin Hamad invited the World Arabian Horse (WAHO) Conference to his country. Visitors from all over the world attended the rich program, including the 1st International Arabian Horse Show. "We welcomed horses from various Gulf countries, like Qatar, Kuwait or Saudi Arabia and, of course, Bahrain," says show organizer Khalid Mubarak. "We enjoy a lot of improvement in the Arabian horse community in Bahrain. The number of horses and horse owners increased and we were just ready to go international. Like last week, some Bahrain owners entered the Egyptian Show in Qatar and their horses returned with good results."
Who expected some nice sunny days in Bahrain was probably disappointed. The weather wasn't kind as it rained a lot. However, the results made a lot of people smile.
In a tough competition and large classes, the Bahraini bred yearling filly Amalya Al Khawaled earned the highest score (92,0) of all local fillies. Born into Al Khawaled Stud, she is a daughter of Royal Colours grandson D Meras and out of Genessa W by EVG Gentry, tracing back to mainly Polish bloodlines. In the Yearling Filly Championship, Amalya Al Khawaled achieved Silver, bested only by Unanimous Gold Champion Senior Mare, the Dubai Arabian Horse Stud bred D Mastura Al Aqeed by Wadee Al Shaqab out of DF Yasirah.
A Bahraini owned horse gained another Silver Champion. The lovely Forelock's Jawaher by Makisa Adaggio out of Valeta 'F' became second in a strong class of 18 four to six years old mares. Born on the green fields of Forelock's Arabians, Netherlands, the chestnut mare is now owned by Abdulla Shaheen Almudahka, an ex-pilot of the Royal Bahraini Air Force. Forelock's Jawaher gained Silver in the Senior Mares Championship. Gold went to Kunar T daughter H Perdita, owned by Mr Saeed Jaffar Abdullah Mohamed Almaheshi, Bahrain.
Gold Champion Junior Filly Alia Al-Ameer is a fine AJ Portofino daughter out of Ava, bred by Ajman Stud, UAE, and owned by Mr Alaa Abduljabbar Ahmed Isa Hammad. Wearing the name of an Olympian god, young EKS Alihandro son Hermes out of Sanadina garnered Gold Champion Junior Colts, owned by Mr Abdulrahman Mohamed Abdulla Mohammed, Bahrain.
Gold Champion Yearling Colts Saadoun Al Zobair, a grey S.M.A. Magic One son bred by Al Zobair Stud, UAE, and owned by Mr Fadhel Abbas Husain Al Jamri, is out of the precious Najdiya Al Zobair by Eden C and out of Najdah Al Zobair.
The Gold Champion Senior Stallion D Jad also came from Dubai, but is now owned by Mr Khalil Ebrahim Ali Makhtar, Bahrain. D Jad is really internationally bred, as he is a bay son of Frasera Mashar, born in Italy, and Murana's Je Taime, born in Germany.
Whether if one enjoys the timeless atmosphere of the Royal Stud of Bahrain, the modern breeding programs of private stud owners or the luxurious base of the Royal Endurance Team of Bahrain – this country is always worth a visit.