Carmelle Rooker
Published on the 11th of July 2016 by Lara Ames (Arabian Horse Times)
Everyone has someone they look up to--an idol of sorts--when they are young, and mine was Carmelle Moeller Rooker.

Back when there was no Youth Nationals and no age breakdowns besides 17 & Under, the youth competed with the adults at the U.S. Nationals. My favorite time of year was late September and October, when anticipating the Arabian Horse World and Times' arrival. I would go to the mailbox every day in hopes that the U.S. Nationals issue would be there .

Carmelle was the epitome of an equitation queen. Not only was she a beautiful young lady, but also an amazing rider. I am not sure if she was the first, but she was the first for me, to remember winning the National Saddle Seat Equitation championship on Fyrewater, and the Stock Seat Equitation championship on Contempo Mac, which today is called Reining Seat Equitation.
In my eyes, Carmelle is one of the most beautiful riders I have ever seen. She just knows how to present the complete picture, from her horse, to her tack, to her attire--it is all perfection. Who can forget the grey formal suit she wore on Apollopalooza; one of my all-time favorite suits I have ever seen.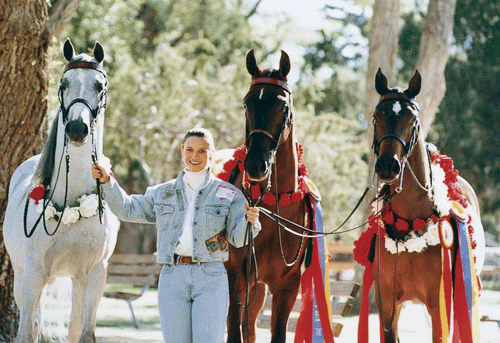 Most amazing, is that her riding style she definitely passed on to her daughter, Makenna Rooker. Every time I see her show, I think of her mother showing in equitation years ago. Makenna has the same soft look that her mother has and the attention to detail.

Carmelle and Makenna--the dymanic mother daughter duo--doing it with such class.