A Bright Shining Sword
Published on the 20th of March 2017 by Susanne Bösche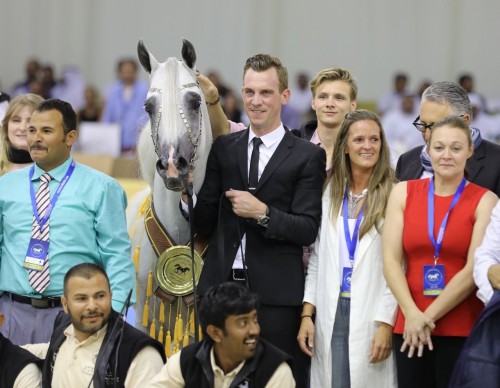 The magic of the legendary sword Excalibur is still alive. The power of the swords was shining bright during the Senior Stallion Championship in Dubai. The glistening white stallion Excalibur EA grabbed the sword and faced the battle against highly decorated and globally renowned stallions.
Excalibur EA, 2014 World Champion Colt and Triple Crown winner, and his Belgium trainer Tom Oben showed no doubt, no hesitation and were certainly not intimidated by famous names. Why should they? Once again, Excalibur EA received the highest points of the show (93,70) and was the favourite on the judge's cards. Proud as a young king, Excalibur EA returned into the ring to receive the rosettes for Gold Champion Senior Stallion.
Spectators had a strong feeling of déjà vu. Like his exceptional sire Shanghai EA in 2016, Excalibur EA accomplished Gold with Baanderos by Marwan Al Sahqab winning Silver. A great success for Dr. Ghanem Al Hajri, owner of Al Hawajer Stud, UAE, who leased young Shanghai EA son for the 2017 breeding season.
Baanderos was a strong competitor, a stallion capturing and mesmerizing crowds and judges since he was a yearling, when he was named 2006 Scottsdale Signature Yearling Colt. The platinum white, athletic Baanderos, owned by Al Khalediah Stables, KSA, and shown by Philip Hossay, has captured championship honours at the highest levels and earned 93,40 points in Dubai winning the class for stallion 10 years + with ease.
Bronze went to another lustrous grey: Aja Angelo by WH Justice, proudly owned by Al Baydaa Stud, Egypt. Ahmed El Talaway was keen to see Aja Angelo challenging the big names in Dubai's arena and his stallion, handled by Raphael Curti, did superb. "It is an amazing feeling," was Ahmed El Talawy's moving comment after the show. "For me, it was the first time competing in Dubai and I tried to prepare everything perfectly, my horses as well as my team. The results are exciting, we came with five horses and gained two Silver and two Bronze medals." The ethereal grey Madinat Al Baydaa garnered Bronze Champion Yearling Filly with her stable mate Aria Al Baydaa being Silver Champion Junior Filly, bested only by the exceptional D Ajayeb from Dubai Arabian Horse Stud, who won Unanimous Gold Champion Junior Filly. Pharaoh HBV, a highly elegant bay colt, achieved Silver Champion Junior Colts.
"I am very happy and very surprised," Ahmed El Talawy continues, "because the Dubai show is one of the toughest and strongest competitions worldwide. We celebrate these results as a success of the team, my trainer Raphael Curti and my manager Chris Lowe. We are working as a team and this is the most important point. My whole family supported us. Not only my dear wife Mai and my son Fathy as well as my two daughters, but the family members from Egypt and Kuwait came to cheer for our horses."
Another highlight of the 2017 Dubai International Arabian Horse Championship were the highly competitive mare classes, filled with graceful beauties. Visitors were excited to see the 2010 Gold ANC and World Champion Filly FT Shaella, owned by Dubai Arabian Horse Stud, UAE, back in the ring; Paolo Capecci on the lead. After garnering Gold Champion Filly in Dubai 2015, the Shael Dream Desert daughter FT Shaella reached for Senior Gold – and was successful. Second in her class, bested by bold moving Norma, FT Shaella was the judge's favourite during the championship.
Bred by Michalow Stud, Poland, the Gazal Al Shaqab daughter Norma won the class of 10-years + with the highest points of all mares (92,90) for Al Muawd Stud, KSA. Shown by Ryan Bryn Jones, the beautiful flea-bitten Norma achieved Silver Champion Senior Mare with the chestnut Elle Flamenca, bred by Markelle Arabians, USA, and owned by Dubai Arabian Horse Stud, winning Bronze.
"It was a big honour to judge," Terry Holmes from USA says. "The Dubai International Arabian Show is a kind of culmination of all the great shows here in the Emirates and it is ten of us judging, so it is a very fair field. The quality of horses was just incredible! The Arabian horse scene is amazing in the Emirates, some of the best horses of the world are staying here; probably the best ones. And the unique thing of the Dubai show is: It is a fantastic city; it is a beautiful place to come and visit. People want to come and enjoy the city as well as the horses."