Family-Friendly Fun
Published on the 13th of March 2017 by Susanne Bösche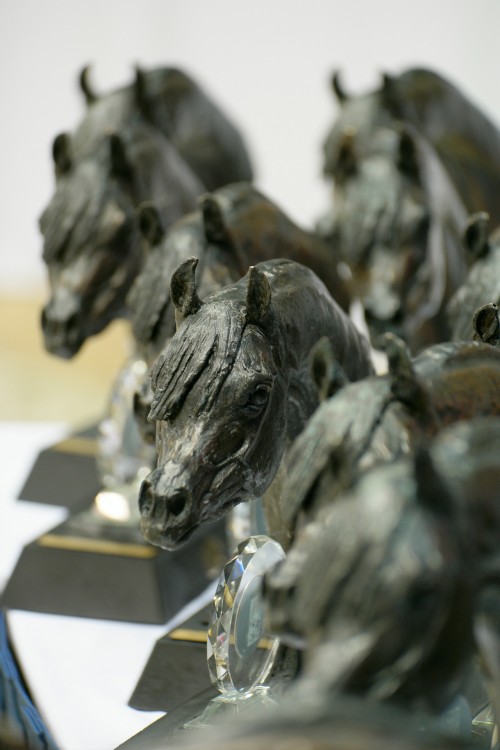 Experience the thrill of a horse auction as equine aficionados bid for the finest Arabian thoroughbreds in the world on one side. Enjoy family-friendly fun, entertainment and activities lined up for all ages include petting zoo, pony riding, Spanish horse "ballet", heritage village and equestrian art gallery at the Dubai International Horse Fair. It will be an action-packed weekend is in store for horse fans when the 13th Dubai International Horse Fair (DIHF) kicks off this week at Dubai World Trade Centre.
Held alongside the 14th Dubai International Arabian Horse Championship, event organisers have lined up a number of activities that will delight families and children of all ages. DIHF takes place from 16 - 18 March 2017 under the patronage of H.H. Sheikh Hamdan bin Rashid Al Maktoum, Deputy Ruler of Dubai and UAE Minister of Finance.
New features that will be enjoyed by youngsters is the Al Tamimi Stables' "Fun Farm" where they will be able to touch, feed and learn about various domesticated animals such as a Shetland pony, sheep, goat, snake, rabbits and birds to name a few.
"Understanding the importance of animal interaction and outdoor activities, we set up Al Tamimi Stables, a locally owned attraction offering a mobile petting farm and pony experience to families and schools across the Emirates. This is designed to give children the opportunity to interact with friendly animals and teaches them how to treat, respect and care for them – we welcome visitors at the Dubai International Horse Fair to experiences some of these activities," said Rachael Wunsch, CEO of Al Tamimi Investments.
Children will also get to experience pony riding, especially those who are aspiring to become skilled riders. Another favourite is the show jumping segment, for younger horse enthusiasts, which is organised by the Dubai Pony Club at the Emirates Equestrian Centre.
A perennial crowd pleaser is the thrilling Spanish equestrian performers that have been entertaining audiences and horse enthusiasts around the world. DIHF visitors will get to see them live in a magnificent dressage routine, which has taken years of training and practice to perfect.
For those looking to purchase equine-inspired art pieces, the show's Art Gallery specialises in artworks by renowned artists and sculptors - many of these artists will be available to advise and assist visitors. The Heritage Village returns this year to feature traditional Bedouin houses, falconry, authentic local dishes, henna tattooing and more.
In addition, the Community Development Authority has organised folklore dances and cultural activities during the show. Equestrian therapy for special needs children and adults will also be demonstrated.
The Horse Auction for Arabian purebred horses from local studs returns this year and will be held on the 2nd day of the show. 100 Arabian horse breeds of superior lineage will be on sale and the event is anticipated to attract hundreds of breeders and buyers from the region.
The Dubai International Horse Fair 2017 will be held in Za'abeel Halls 5 and 6 at Dubai World Trade Centre. Opening hours are 10am - 8pm on 16 March, 2pm - 8pm on 17 March and 11 am - 8 pm on 18 March. Admission is free of charge and open to trade visitors and the general public. Children under the age of 16 must be accompanied by an adult at all times. Pre-registration is now open at the show's official website www.dihf.ae