Highest Points For Peace
Published on the 26th of March 2017 by Susanne Bösche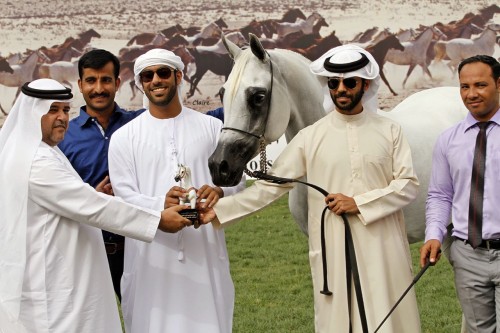 In the glaring lights of the Abu Dhabi Equestrian Club, the mare Al Aryam Salma stood in natural grace, surrounded by excited people. Her proud owner Saeed Mohamed Ali Alrasas Al Mansoori and his team celebrated with exuberant joy the Gold Champion Senior Mare and the highest points of the show. The pure grey Al Aryam Salma stayed calm and graceful like a white dove of peace which is suitable as "Salma" means "peace".
The Dubai International Arabian Horse Championship just closed it doors when the Abu Dhabi Equestrian Club welcomed another great show for a selection of Emirate's four-legged jewels competing for championship honours at the EAHS National Championship.
The Senior Mare Championship was one highlight of the Nationals. Al Aryam Arabians, owned by HH Sheikh Hamdan Bin Zayed Al Nahyan and managed by Marion Wichmann, is the proud breeder of the Gold and Bronze winners. Gold winning, seven years old Al Aryam Salma is out of JJ Salina by JJ Senor Magnum, who has a significant impact at Al Aryam Arabians, thanks to her daughter Al Aryam Shakeera. The chestnut, four years old mare Al Aryam Dallal who achieved Bronze is by MF Aryan El Thessa out of Tala by Maleik El Kheil, an influential stallion in Al Aryam's breeding program and highly valued by everyone at this stud farm.
The high score of all juniors received the two years old filly Mezzon Al Hawajer who achieved Bronze Champion Junior Filly, too. Bred by Dr. Ghanem Mohamed Obaid Al Hajri, the S.M.A. Magic One daughter is owned by Gulfa Arabian Horse Stud. Mezzon's dam Abby Gale LBA is by Da Vinci FM and the impeccable Amety B is her great granddam. The pedigree of this filly offers more great names in this generation: Padrons Psyche, Versace, Bint Bey Shah, AS Sinans Pacha and Monogramm.
With Afifeh W'rsan another S.M.A. Magic One daughter won Gold Champion Junior Filly while Silver went to Arwa Al Hawajer by RFI Farid.
Emirates Stud, owned by Sheikh Abdullah bin Majid Al Qassemi and managed by Christine Gruber, celebrated two wins with selfbred horses. The one year old E.S. Rasheeda achieved Gold Champion Yearling Fillies, with the highest score of all yearling fillies. E.S. Rasheeda is a bay, like her sire FA El Rasheem. The dam Vitorio Secret TO is linebred to Versace who left this world way too early. Silver went to another FA El Rasheem daughter, AJ Lubna, with A T Albahia by Marajj winning Bronze.
Bronze Champion Yearling Colt went also to a horse bred by Emirates Stud, the Kanz Al Bidayer son E.S. Emtiyaz. His dam Delilah BHF out of BHF Savannah and sired by Denali BHF, who is a remarkable son of the Brazilian National Champion Mare NV Ali Bey.
Surhan N, a S.M.A. Magic One son bred by H.H. Sheikha Mariam Bint Sultan Bin Ahmed Al Qassimi and proudly owned by Mohtab Arabian Horse Stud, acclaimed Gold Champion Yearling Colt. Al Jazeera Arabian Horse Stud celebrated the win of the Silver Champion Yearling Colt, JA Wazeer AlJazeera.
In the Senior Stallion Championship Al Jazeera Arabian Horse Stud triumphed with JA Safeer over AJ Radar by Al Bilal and AJ Bayen by A.S. Natsir-Apal. JA Safeer's sire Haytham Albadeia represents finest straight Egyptian bloodlines, combining the famous breeding programs of Al Badeia and Simeon Stud.
An exciting 2016/2017 show season in the United Arab Emirates is over. We enjoyed shows with an astonishing amount of horses, exciting competitions and amazing enthusiasm of owners and breeders.
I hope, we'll see each other again for a thrilling 2017/2018 show season to celebrate the passion for Arabian horses in the fastest growing scene worldwide.