About The Smaller Ones
Published on the 31st of December 2016 by Susanne Bösche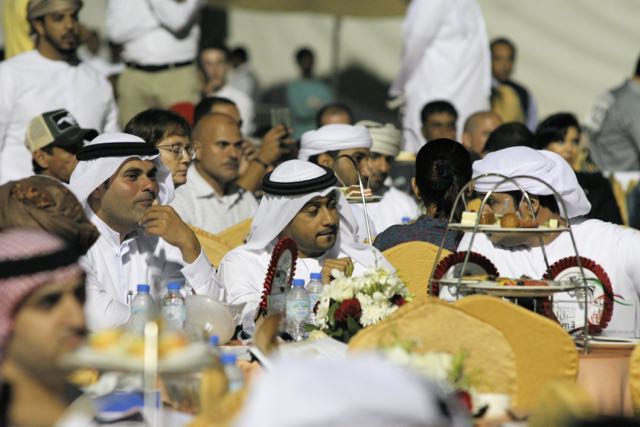 The Emirates Arabian Horse Breeders Championship was an excellent opportunity for all breeders in the Emirates to present their horses to the international, experienced judges Marianne Tengstedt, Abdelraouf Abbas, Ferdinand Huemer and Dr. Gianmarco Aragno. It was one more effort of EAHS in the context of the preservation of heritage and tradition – and for sure the Arabian horse plays a major part in the rich depths of UAE heritage.
International competitors like Al Hawajer Stud, Albidayer Stud, Ajman Stud, Dubai Arabian Horse Stud are familiar to the global Arabian horse community. This Emirates Breeders Championship was a great opportunity to meet some of the smaller breeders. Just like Adel Al Marzouqi, who was impressed by the high quality of the horses. "Instead of competing with my own horses I am here to support my colleagues," he says. "To watch a show is always interesting, you can benchmark your horses and see where do you stand with your own breeding program." Adel Al Marzouqi started with straight Egyptian lines first and lately added Polish bloodlines with great success.

Just like Abdulrahman Al Seirari, who started breeding Arabian horses six years ago. "Egyptian bred Arabian horses were fashionable at that time," Abdulrahman Al Seirari explains. "When I went to some shows I recognized the variety of bloodlines and added other lines to my program. Today you can find the influence of El Shaklan and Marwan Al Shaqab in my farm." He went on: "It is important for me to compete, to show and participate with my homebred horses and hope to go international in the future." One of his most memorable moments in 2016 was a third place at the Fujairah Show with his yearling colt Adnan AlSeiar by Al Jathlan, who got 90,25 points.
Somebody who started with Padrons Psyche and Sanadik El Shaklan lines is Jumaa Al Marzooqi of Alkhail Stud, another small breeder. "I am focused on good bodies and movement and this points I get from this famous sires," he says. Two of his horses became Top Ten in their classes in a strong competition. The three years old chestnut Shalwa Alkhail by Montana Firenze out of Jalwa Alkhail received 90 points and became eights in her class!
Rashid Nasser has a wisely selected handful of mares. "My program is based on Ali Jamaal and Showkayce bloodlines," explains Rashid Nasser. "This strong influence you can cross with any other bloodline. You can go in any direction and you will be successful."