It's All Fun - And Passion
Published on the 8th of May 2017 by Susanne Bösche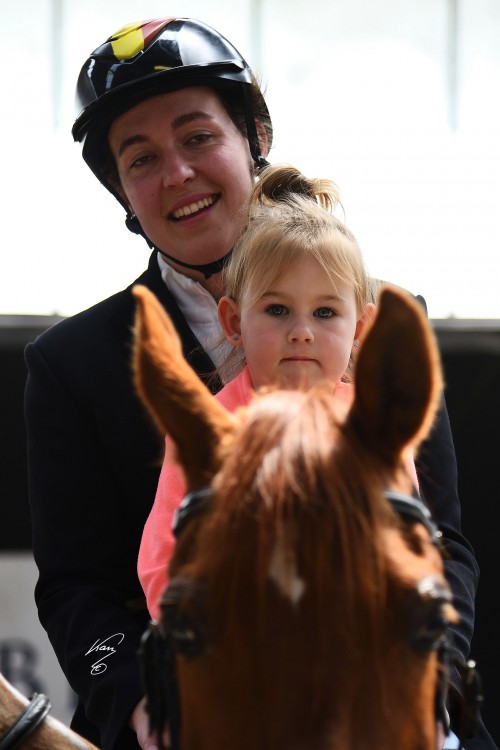 If you were lucky enough to grow up with horses, you probably know what fun it was to hang out with them, having fun with your horse and friends, and you felt a deep bond with them. Talking to participants of the Aljassimya Amateur Cup this scenario comes alive again.
There is no typically AJF Amateur Challenge participant. One is a horse owner, who just wants to have fun. Another one is a stud owner, who wants to give his groom the chance to compete on a fair level; or a young lady, who shows the horse of a friend.
The aim of the AJF Amateur Challenge, premiered in 2014, "… is to make it possible for a new generation of Arabian horse fans to learn how to compete with their horse by providing fun and fair competitions across Europe." The third edition started with the AJF Amateur Cup in Sint-Lenaarts, Belgium, and will continue throughout Europe.
The AJF Amateur Challenge is not just any amateur show, thanks to the generous sponsorship of Aljassimya Farm. The shows all have the same rules, they are held at a superb venue and the judges are experienced and well known. Frances Atkinson came all the way from England to enjoy a happy weekend with co-judges Robbie den Hartog, Netherlands, and Bertrand Valette, France.
"It was an absolute pleasure to judge at the AJF Amateur Cup show and the sensitive handling of beautiful Arabian horses was a joy to witness," says Frances Atkinson and continues: "The organization was superb and the atmosphere special. It is so gratifying that Aljassimya Farm has had the vision to support our amateur owners and handlers and I know how very much their sponsorship is appreciated. I can imagine that this movement within the Arabian sector will go on from strength to strength. Congratulations to all concerned."
And Frances husband Paul, a known breeder, rider, handler and stud manager himself, adds: "A great show to meet old friends and see beautiful horses in a competitive and relaxed atmosphere. It is so very important to emphasize the importance of the amateur show people. They are after all the backbone of ours and many other breeds. Thanks to Rob Rens, Ilse Verbruggen, and Stifn Schrijvens and the whole team for their welcome and hospitality. A show not to be missed!"
And it is not just about winning. Wendy Delvalle, Forelock's Arabians, Netherlands, says: "We have so much fun even if we do not win. Participating in the Amateur Cup is great! I love to show our own horses but normally we cannot compete against the big farms and the professional trainers. The Amateur Challenge is a wonderful chance for us - not taken by many in my opinion. The AJF Amateur show gives breeders and owners a chance to show their own horses! As we all know, it is difficult to show if competing against the trainers that are excellent in preparing and showing." And Wendy continues: "This is a great opportunity for nonprofessionals. For us, it is a chance to show the horses that are not able to compete at high level and a way to let the girls show the horse they groom every day at our farm. The atmosphere is very relaxed and everything is explained to the handlers. No need to be stressed. Let's hope more people will see that this is a fun way to work with your horse!"
Forelock's Arabians sent three horses to the Amateur Cup and celebrated the Bronze – Novice Amateur of Forelock's Venezuela, a yearling filly by Bashir Al Shaqab out of Virginia F, well handled by Kim den Haan.
"I am very proud of Forelock's Venezuela, who did amazing," Kim tells. "We won in our class; I am so proud of our performance! It was a great opportunity to participate in the AJF Amateur Challenge with the horse you take care off. We trained a lot for in advance and it paid off. Thank you to Wendy and Aad from Forelock's Arabians for this opportunity!"
Joyce Rosowski is one of the Experienced Amateurs. Working as a groom for Jadem Arabians, Belgium, she visits a lot of shows in Europe and overseas, like Scottsdale or Las Vegas Breeders Cup. "I love my job," Joyce goes into raptures. "Preparing the horses and get them ready to show, trying to get the best out of them and supporting the horse and the handler who is showing it." Nevertheless, Joyce took the opportunity and participated in the very first amateur show in 2015. Last year, Joyce came back with her gelding Fajro RJ and a filly, bred and owned by her employer, Christine Jamar: Marrakech J, by Emerald J. "I became Best in Show Experienced Level with Marrakech J," Joyce remembers. And the filly continued her show career, winning Belgium Nationals Silver Champion Junior Filly.
In 2017 Joyce Rosowksi came back with another beautiful filly, bred and owned by Christine Jamar, too: Prada J. "Next to the filly I showed by my own stallion Gloriet Psyche," Joyce adds. "Although this year was not a highlight like last year, it was a good experience for me and I keep learning from it. I have to take this change to thank Christine to allow me to participate with her horses and to Frederik Van Sas because he is guiding along every step of the way, which I can't thank him enough for this!"
The Hunter Pleasure Novice class was also extremely exciting for Joyce Rosowski as her self-bred gelding Fajro RJ was presented by Kelly Delen from Elba Training Center, Belgium. "With only six weeks under the saddle and being four years old, I think, Fajro RJ did an amazing job. He is by Gloriet Psyche and a real eye-catcher. I was very surprised that Fajro RJ behaved himself so well but this could not be possible without his rider: Kelly Delen, who did a great job with him and all the credits go to her!"
Evie Verstrepen showed Murjanah, by Amurath Muntahi for her friend Patricia de Beul, who also bred the 2008 born mare. "Murjanah and I competed in Senior Novice Mares and became fourth," Evie tells. "I participate in the very first amateur show in Lille in 2015 and still like it. The atmosphere is always so good, everyone supports everyone, and there is no tension, just fun! It's a nice show to learn how to show a horse properly, and to practice without pressure."
This is exactly the original idea when Aljassimya Farm team developed the idea. And the idea is growing! At the 2017 European Amateur Cup handlers from Belgium, Germany, France, the Netherlands, the UK and even from South-Africa presented horses. "We hope it can take off," says Emma Maxwell, involved in this project since the very first moment, "although all seedlings require a lot of care in their first years! The Arabian horse is a people loving horse and we want as many people as possible to have the opportunity to enjoy that personal interaction with the Arabian. We want to offer people the first stages of competition in a fun and fair way so they can learn new skills without too much pressure and meet new friends with the same passion. The top end of the Arabian show world is well catered for but the starter layer is looking neglected and Aljassimya Farm hopes to put in the care and attention it needs to keep the whole Arabian breeding scene functioning."
If you start talking to participants, breeders, horse owners, show organizer, and judges, you easily find out they are passionate about what they do. These amateur shows are fun weekends where everybody tries to support all the other people. And Joyce Rosowski points out: "The atmosphere is changing every year a little more at the 'common' shows, where people think there is political involvement going on. Personally, I like to believe the Amateur Cup is a place, where everyone can enjoy their Arabian horse and their friends. At least for me, it feels that way! The amateur shows are a great initiative and I will keep supporting the idea of organizing these shows. For sure they will keep up the good work that they are doing to get more people interested to try and to participate."