Too Good To Be True
Published on the 16th of April 2017 by Susanne Bösche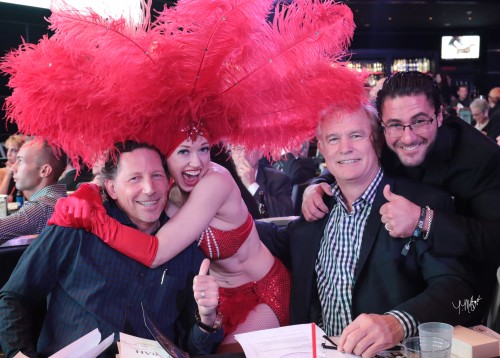 The air seemed to vibrate; glasses clink, and happy voices filled the room, providing a background for the exciting and magical evening of the IntArah Dream Embryo Auction in the perfect setting of South Point Casino Showroom, Las Vegas. An elegant dinner evening, chic dresses everywhere. Showgirls, dressed all in red, seductively walking like a panther despite their hot red high heels, came to the tables of the highest bidder to hand over not only a bottle of champagne but also a valuable pen to sign the contract.
It was hard to decide where to look first and too good to be true. All this glitter and glamour reminded spectators of the old days when the Arabian horse auctions were full of big money. 25 lots of unborn foals of the richest bloodlines and most proven crosses from around the globe were auctioned through the IntArah Group.
Read the catalogue and you won't take the eyes off of it, there is nothing else to compare. Incredible consignors allowed their very best to contribute to the sale total of 1.982.500 USD. "Thank you to ALL! We are beyond words and cannot wait to do it all again in 2019," say Luciano Cury, Mario Zerlotti and Cindy McGovern, owners of IntArah Group. "Prepare your breeding decisions now so we can all make history together once again! Your support will never go unnoticed. We know who made this happen and we appreciate all of you."
Six horses were sold for 100.000 USD and more. Aljassimya Farm, Qatar, paid the incredible amount of 210.000 USD – and therefore bought the high seller - for a rare gemstone, an embryo by exotic FA El Rasheem out of Honey's Delight RB. Consigned by Aria Prestige Holdings LLC, the 2013 U.S. National Champion Mare, Honeys Delight RB, by JJ Senor Magnum, is known as a fantastic producer and achieved the "Produce of Dam" award at the 2012 Brazilian Nationals.
On the other hand, Aljassimya Farm offered an embryo out of its finest mares, the reigning World Platinum Champion Female CR Jasmeenah by WH Justice. Mindy Peters bought this marvellous offer for 200.000 USD and will enjoy a foal by the dream combination of ethereal Al Ayal AA and CR Jasmeenah in 2018. Al Ayal AA while the auction catalogue said different? Originally the lot was consigned with the triple ANC Gold Champion and unanimous 2016 World Champion Senior Stallion EKS Alihandro, but the embryo was lost and showed no more heartbeat at the time of the auction.
Mindy Peters saw CR Jasmeenah's special daughter by Al Ayal AA. "This filly was the reason for Mindy's requested that if she bought the lot she could do a stallion change to Al Ayal AA," Bart van Buggenhout, manager of Aljassimya Farm, explains. "We are a young organisation and we are not yet much involved with sales right now. We will grow towards, too, but with one commitment in mind: Client is king and especially if that client is willing to pay 200.000 USD for an unborn foal. It is our believe that the professionals of this industry need to do the utmost effort in satisfying the client first and fulfil there wishes if it can be accomplished. I know, Mr Ward Bemong, manager of Athbah Stud, who is the proud owner of EKS Alihandro, was disappointed in the change of stallion we did allowed to happen. And he was right, we understand him well but in truth he should understand the above written too and furthermore he should know that we will use this breeding which we paid for and have the allowance to use the way we see fit in the best possible way to hopefully create another masterpiece."
Three embryo rights reached 110.000 USD and it is no surprise among them is the "Golden Cross" of Amety B and Marwan Al Shaqab, consigned by Running Horse Ranch. Orrion Farms, USA, purchased the embryo out of Amety B, by Eternety, dam of three U.S. National Champion Yearling Fillies. This embryo will be a full sibling to Princess of Marwan and Goddess of Marwan. The later one already produced U.S. National Champion Mare AAOTH and U.S. Reserve National Champion Yearling Filly, Goddess of Da Vinci.
Equidont Arabians offered an embryo out of their exquisite black swan, U.S. National Champion Yearling Filly and U.S. National Champion Junior and Senior Mare RH Triana by ROL Intencyty. The sire of the unborn foal is the widely regarded QR Marc, representing the successful sire line of Marwan Al Shaqab and Gazal Al Shaqab. No wonder, Haras Cruzeiro, Brazil, has secured this precious potential.
Another Brazilian breeder, RFI Arabians, offered the embryo right to one of Brazilians most exclusive mares, the bay RFI Sophie Al Maktub, by RFI Maktub. RFI Sophie Al Maktub was Best in Show at the 2011 Brazilian Breeders Cup and is the dam of reigning Brazilian Silver National Champion Filly, RFI Sensation. The breath-taking Pharaoh HBV will be campaigned in Europe and the Middle East and already achieved 2016 ANC Silver Champion Yearling Colts and 2017 Dubai Silver Champion Junior Colts. Royal Arabians, USA, now has the pleasure to choose a stallion for RFI Sophie Al Maktub.
Royal Arabians were keen shoppers as they also bought the unborn full sibling to the 2016 U.S. National Champion Stallion, Marajj, by Marwan Al Shaqab and RGA Kouress for 100.000 USD. Royal Arabians has paid another 70.000 USD for the amazing combination of Shanghai EA and Essence Of Marwan EA, making the foal a full sibling to incredible Excalibur EA, consigned by Equus Arabians.
Haras Boa Vista took the opportunity to purchase a full sibling to Kareemah Albidayer, 2017 Scottsdale International Arabian Breeders Classic Gold Champion Yearling Filly, by Kanz Albidayer and out of Kubinec's wonderful daughter Khaleifa, consigned by Albidayer Stud.
It is obvious; the winning bidders got a huge jump-start in moving their programs forward. This is exactly what the IntArah Group wanted when they established the IntArah Dream Embryo Auctions on the market. They were inspired by the idea of providing an opportunity for breeders to purchase an unborn foal out of a mare that many could only dream of owning. The sires and dam of these offerings are many of the most successful Arabia horses in the world. IntArah's first auction was held in Brazil six years ago and the excitement and interest of people, who seek the elegant lifestyle offered by the Arabian horse haven't dropped since.
Stay tuned for the next "Dream Embryo" Auction 20190! It will be too good to be true!