Focus On Straight Egyptians
Published on the 19th of February 2017 by Susanne Bösche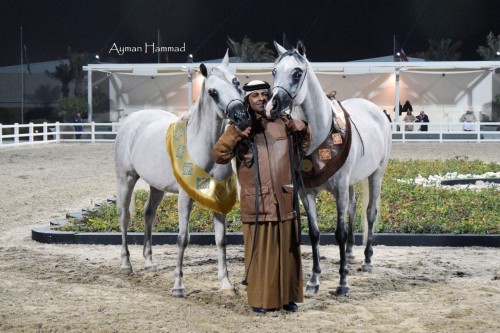 The "All Nations Cup" in Aachen is a regular date in the Arabian horse community's diary. A high-class showcase with a long tradition for the top horses from all over the world. The ANC Straight Egyptian in Kuwait just experienced its second edition and is ready to build its own tradition and history.
"The All Nations Cup Straight Egyptian, this idea came from the Board Of Trustee of Bait Al Arab," explains Mr Nasser Al Ghaith. "An agreement was worked out between the Bait Al Arab Board and the ANC Committee so the name All Nations Cup could be used for this yearly show in Kuwait. It is a two days event, focused on Straight Egyptians, followed by three days of Open Houses." Nasser Al Ghaith, who is working in Arabian Horse Center - Finance Department, is riding since childhood and took it as a chance when he was able to get a job at the Arabian Horse Center – Bait Al Arab, which is considered an official organizer of horse shows and seminars around Arabian horses. "Our aim is quality," says Nasser Al Ghaith, "so we are searching for everything that represents the Arabian horse community and our country in the best way."
Though the breeders interest in other bloodlines increased recently the Straight Egyptian community is still strong in Kuwait. Somebody who is travelling regularly to Kuwait is long-time Straight Egyptian breeder Cornelia Tauschke, Germany. "The show is wonderfully organized, everything runs smoothly," she says, "but to be honest, for me as a breeder I love the Open Houses. It is always interesting to see the latest results of the breeding programs in this country."
The show already exemplified the power and grace of the Straight Egyptians. Several already successful show mares returned to the ring to compete for the Gold Champion Senior Mare title. Al Rayyan Farms Fares Al Rayyan daughter Menouah Al Rayyan out of Bint Messoudah-M HP achieved the title with Italian bred Maysuna Guasimo by Al Adeed Al Shaqab winning Silver for her owners Al Danat Stud and Al Fala Stud, Kuwait. Maysuna Guasimo also received the highest points of the show with 93,57. Bronze went to Tibrah Al Shaqab by Farhoud Al Shaqab, bred and owned by Al Shaqab Stud, Qatar.
Powerful Adham Saqr came, saw and won Gold Champion Senior Stallion – Unanimous, with the highest points of all stallions and colts (93,50). Bred by Tarek Hamdy, Egypt, Adham Saqr is by influential Imperial Madori out of Ameera Saqr, now proudly owned by Sheikh Mohammad Ali Al Sabah, Kuwait.
The Silver Champion Senior Stallion Haizoom Al Asil by Kameel Ibn Adeed was born in England and is owned by Ayman AlQattan, Kuwait. Al Daar Stud received Bronze with its homebred stallion Amir El Hejra by Nader Al Jamal.
The class of three years old fillies offered some exciting moments. Two fillies reached the top with the high score of all fillies: 92,64 points; both representing excellent breeding programs and a reach pedigree. One was Hikayet Hob AA by Al Ayal AA, who turns out as one of the current top sires in the international arena in Scottsdale, too. This grey filly was bred by Ariela Arabians, Israel, and is owned by Ahmad Abdulazziz Albabtain, Kuwait. The other one is the lovely grey Mashhoora Al Shaqab, a daughter of the late Ansata Nile Echo, who died untimely in January 2017, bred and owned by Al Shaqab Stud, Qatar. This was a hard call to make for the judges. In the Junior Filly Championship, seven judges voted for Hikayet Hob AA winning Gold while Mashhoora Al Shaqab received Silver with Alsafa Aljazira garnering Bronze.
D Monaf by World Platinum Champion Stallion Royal Colours, bred by Dubai Arabian Horse Stud, UAE, not only garnered the highest points of the colts with 93,21 for his owner Ali Matar Al Wawan, Kuwait. The grey colt also received the Gold Champion Junior Colt title with Ezz AlDanat and Ezz Al Rashediah winning Silver respectively Bronze.
With such appeal and forceful competition, this event is very much on the list of breeders the world. The ANC Straight Egyptian is on its way to become an important showcase for the best Straight Egyptians in the Middle East.