Marquise Invitational Auction
Published on the 30th of January 2017 by Susanne Bösche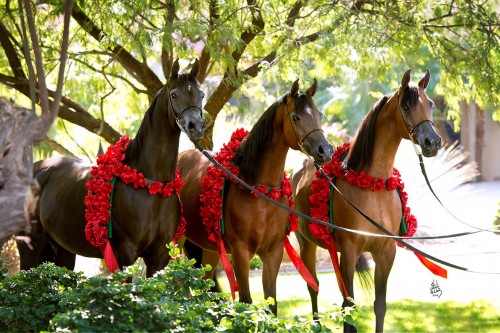 There are many delights to auctions, where the competition can be electric, the sums staggering and the audience filled with breeders and enthusiasts, who covet, and know, their pedigrees. The Marquise Invitational Auction promises to be just that: an exhilarating, high-energy event that will take place during the Scottsdale Show, the largest Arabian horse show in the world. The auction will be located in the International Arena at WestWorld in Scottsdale on February 24th.The VIP Doors open at 6 p.m. and the Auction begins at 7 p.m.
Marquise Invitational Auction will offer an extraordinary world-class selection of Arabian horses with iconic pedigrees. An overview of the lots promises an exciting sale coming up, which is sure to tantalize those with fine taste.
Possibly the most anticipated lots of all is the Breeder's Dream Embryo Collection, an unprecedented opportunity to buy an embryo right to each of the three most recent U.S. National Champion Senior Mares, RH Triana, Honey's Delight RB and MD Hibat Allah.
More stunning individuals form an exclusive collection organized and brought to you by Marquise Auction Group, LLC. Jeff Sloan, Norm Pappas and Jamie Jacob are the driving force behind this Auction Group mission. While the 2017 Invitational Auction is the inaugural event, it is the goal of the group to conduct auctions annually, with the commitment that the horses, their selling prices, and the selling process be fairly and honestly represented with the highest degree of integrity.
Do not miss the Final Preview of the Auction which will take place at Sahara Scottsdale on February 21st (6:30 p.m.), though private previews are available by appointment.
Explore the website and experience the outstanding offerings that is the Marquise Invitational Auction 2017. www.MarquiseAuctions.com