A Kind Of Magic
Published on the 15th of February 2017 by Susanne Bösche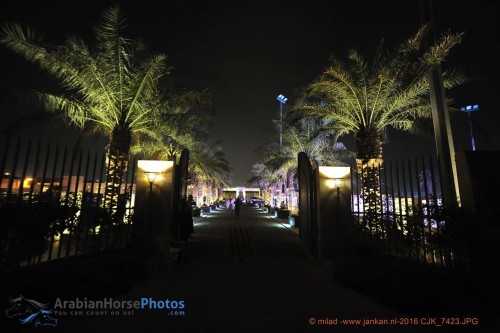 Palm trees and buildings had been completely bathed in colored light, artfully placed lights gave the scenery a special futuristic and at the same time warmth atmosphere. It was a kind of magic moment, walking through the monumental pointed arch and watching on the carefully crafted Open Day of Milad Equine Center.
Sumptuously fitted Arabic tents outsides the buildings were waiting for all the visitors from all over the world. In a large hall, also bathed in purple light, an extensive buffet and most exquisitely laid out glass tables were standing by. Precious falcons have a great emphasis in the Arabian culture and several of these delicate birds were presented to the guests, who had been also maintained by traditional musicians.
The highlight was, of course, an eventful and varied presentation, perfectly organized by a most professional team, of outstanding Arabian beauties. Newborn foals at the side of their loving dam were presented for the first time in front of the public. Playfully trotting and rearing proud stallions deeply impressed the audience.
It was a kind of magical night, which will leave a lasting impression on all those involved.
Enjoy also the live stream in replay or the short after movie.