In The Spotlight
Published on the 16th of May 2017 by Susanne Bösche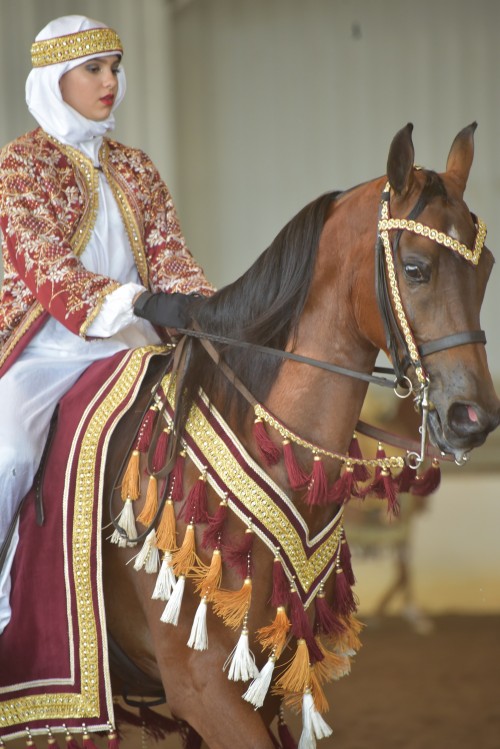 It was a great show for trainer and handler Ted Carson at the 40th Region 12 Championship. He truly stood in the spotlight with the highly elegant bay Da Vinci FM daughter H Bella Bellezza H, who achieved Region 12 Champion Mare. Bred by Dynasty Arabian Horses, US, and owned by Suzann Vince, H Bella Bellezza H is out of an El Nabila B daughter, Sashaa LHT.
Ted was accompanied by his gracious daughter Michaiah, who showed her best friend: the self bred SF Veraz son Vulcan TCA, out of Aphradite TCA, in two Hunter Pleasure classes and became 2nd and 3rd.
Carson and his team brought nine performance and twenty halter horses to the Region 12 Championship. "Region 12 is one of the top four shows in the year, which includes Las Vegas, Scottsdale, Region 12, and the Egyptian Event. Those are the top four shows. They shows do a lot for the owners and they are interested in making a great horse show," states Ted Carson, North Carolina. "For sure we, trainers, handlers, show organizers, could not do our work without all the owners and breeders out there. We are very thankful for them supporting us. I think, Region 12 is a really important show in the southeast for our breeders."
Shaheen C, already 2016 U.S. National Champion Futurity Colt, garnered the Region 12 Stallion Championship, well handled by Peri Wilson. The grey Stival son is bred by Rhonda Coleal and proudly owned by Gallun Farms. Shaheen C's dam is Silken Sable, by Genesis C.
Region 12 is one of eighteen regions that comprise the Arabian Horse Association and the largest geographically, incorporating the Southeastern states of North Carolina, South Carolina, Tennessee, Georgia, Florida, Alabama and Mississippi. Arabian horses competed in six arenas on Georgia National Fairgrounds and Agricenter, Perry. Next to the halter and riding classes, the show offered the Spotlight Stallion Auction and Futurity.
Region 12 offers much more than "just a show". An important part of the event is the unique Spotlight Futurity program and stallion auction. "It is been going for eleven years now," explains John Rannenberg, Vice President Spotlight Futurity. "Last year we have had eighty stallions participating in the auction and the money is then put into a Futurity account to be paid back later to the exhibitors, breeders, and owners. We have a variety of classes but these horses that are eligible to come back the following year, that are eligible for a halter futurity class, they are competing for a substantial amount of money. More than 180.000 USD prize money was awarded last year in a variety of classes, western, hunter, English pleasure, and halter. It is really something we are trying to do for the Arabian horse community. We are trying to keep people interested in breeding and give them something back and we offer them an opportunity to breed to the best stallions in the world on a maybe slighter price than the normal fee is."
This year, seventy stallions were in Spotlight Futurity Stallion Auction and the organizing committee offered something really special. "I am really excited about! We offered frozen semen of the legendary Padron. It is something I have been working on for the last two years," tells John Rannenberg. "Padron is a legend, he died at age thirty but he had an amazing career. Padron was a great show horse and an amazing sire, he had produced of our leading sires and dam of our industry. The blood is still really sought after. But Padron is gone now for 15 years and this is an exciting opportunity to bring forward his blood in a breeding program."
The Spotlight Futurity Stallion Auction offered a wide range of different sires, something for every taste. Stallion from Egyptian or Polish bloodlines, imported from all over the world, or stallion, which a more performance oriented background. The Futurity money is paid out in multiple disciplines this program suits all tastes and budgets.
The unanimous winner of the Region 12 Futurity Western Pleasure 3 & 4 years old, PA Anson is one example for the Spotlight Futurity program. The bay Stival son out of PA Amarosa Dansing is bred by Fran and Sarah Chisholm and proudly owned by Flois and Cindy Burrow. On the second place the judges saw PA Maya, also bred by the Chisholms, owned by Janice Colwell. This young bay mare is by Possesion PGA out of May Dancer V. Over 5.000 USD prize money were paid in this class.
Hennessey Arabians LLC celebrated the achievement of their colt H Emerson H, a chestnut yearling colt by AJ Thee Luca. H Emerson H achieved two first places in the Spotlight Futurity Yearling Colts Auction Class and brought home more than 9.000 USD. His pedigree is quite interesting. H Emerson H's sire AJ Thee Luca is by Egyptian bred Thee Desperado out of a Magnum Psyche daughter. On the female side of the pedigree we find influential sires like Ali Jamaal, Padron Psyche combined with Monogramm and Pamir, and tracing back to the outstanding Emanacja, Polish National, European and ANC Champion Mare, and dam of astounding horses like Emilda, Emanor, Emanda or Emmona.
Between all the apparent glamour the story of 17 years old Kendall Paris stands out. Kendall is devoted to horses and would like to go to Youth Nationals and Sport Horse Nationals. What others take for granted is not self-evident for Kendall, who has a rare disease called Hypereosinophilic Syndrome. Basically, her body makes too many eosinophils, and they can attack organs like the heart and lungs. "There are less than 200 cases and most people only survive it for five years ad not many kids have it," says Kendall's mother Laura Paris. "There is no cure for it and nobody knows how do you get it."
Kendall was diagnosed at age seven, around the same time she started riding. Riding and being around horses has given her something to enjoy and work on, and it helps keep her going. "Kendall is doing well with the horses," Laura Paris tells. "It is something for her to live for. KRH Shahzar is Kendall's favorite horse, like her boy. She does trail, sidesaddle, hunter, show hack, and show costume well a lot of different classes."
Kendall and her mother came to Region 12 Championships with trainer Denise Fuller, Fuller View Arabians, Florida, showing four horses and it turned out to be an incredible show for them. At Region 12 Kendall alone won a total of five Championships and two reserves. Among the horses, Kendall rode was Denise Fuller's fantastic gelding Footsteps Falco BHF, a grey son of Falcon BHF out of BHF Anna Tevkah, bred by the well-known Battle Hill Farm.
"Going to the Youth Nationals is Kendall's dream," says her mother. "If anybody has any open spots for hauling or would like to sponsor Kendall, it would be greatly appreciated. Thank you, and thank you to Region 12 for putting on a great show."