Scarlet Lace
Published on the 14th of July 2016 by Lara Ames (Arabian Horse Times)
When I was a young girl, I absorbed everything I could about the Arabian horse. Even my thoughts as a young child involve some of the horses that I still today feel are the very best of our breed.
It is funny to think about now, when considering the position that I am in today. Every month I could hardly wait for the Arabian Horse World or Times to arrive in the mail. I read them from cover to cover. In fact, I would read them so much, that the pages would start to fall out, but I was very aware of what was happening in the industry at a very young age. I think I knew the horses back then, better than I do today.

One horse that has always stood out to me was Scarlet Lace. Jerry Sparagowski's photo of her is one of the best photos I have ever seen of any horse, and still feel the same way today.
Scarlet Lace (Bask x Elsinor Muzuleyna) was the epitome of an Arabian mare to me. When I looked at her, all I saw was this amazing eye, long skinny neck, and the amazing things that she could do with her front legs.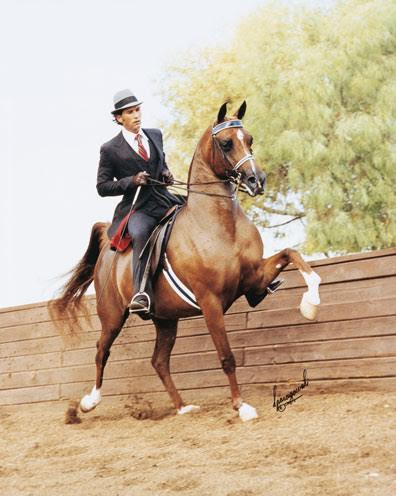 Scarlet Lace was consigned to the Lasma Sale V in 1983, right around the first of the year, when one would get all of the catalogs for the upcoming auctions that would take place in Scottsdale. There was an auction every night during the Scottsdale Show, and the Lasma Sales were the granddaddy of them all.
My parents would always head to Scottsdale, Ariz., for the show, but I was pretty young back then, and they would not allow me to miss school. And unfortunately, there was no thought of live feed or cell phones back then, so I would call my parent's rental place phone non-stop to find out what was going on.
All these years later, the moment that Scarlet Lace went through the auction still stands out in my mind, and every time I watch the video, I still get chills. Harry Cooper and Curt Rodgers were the announcer and auctioneer, and they were legendary--a dynamic duo together. There was a halt in the bidding. Raymond was prancing this beautiful mare across the stage. She had sweat dripping off her, but still looked amazing. Curt went on to say, "Through all the blood, sweat, and tears, ladies and gentlemen, please give me a million dollars!" Then he pounds his hammer, and said, "Ladies and gentlemen, I have a million dollars!" The late George Huck was the successful bidder that night.
In my opinion, that was one of the most historic moments in the Arabian horse industry. It was like a movie. Maybe we will all be lucky enough to have Gene and Raymond LaCroix share some of their moments with us someday. We all know they have more moments to share.

I thank Scarlet Lace for giving me the vision of what an Arabian park horse should look like--a vision that still holds true for me today.