A Golden Hat-trick
Published on the 5th of March 2017 by Susanne Bösche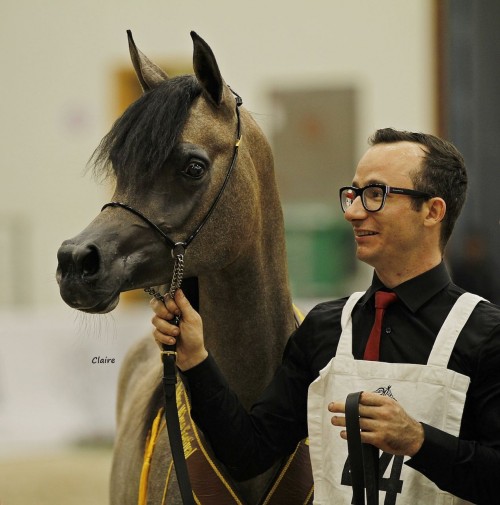 Recently I have read something about the origin of the expression "hat-trick". The first sport to be associated with this term was cricket. There is a theory probably nobody will understand, who isn't familiar with this sport. However, you can also look at the situation from the magical side, where an item – mostly white rabbits or bunches of flowers – pulled out of a top hat.

At the Sharjah International Arabian Horse Festival the amazed audience followed a very special golden hat-trick of a certain magician. The magician's name is RFI Farid, who recently celebrated a unique success as he sired all champion yearling fillies at the 2016 World Championship.
Last weekend, bay and elegant RFI Farid astonished the audience by being the sire of another hat-trick: Gold Champion Yearling Filly Madinat Al Baydaa (also highest score of all yearling fillies), Gold Champion Junior Filly D Ajayeb (also highest score of all filies) and Gold Champion Junior Colt Al Aryam Amgaad. RFI Farid is also the sire of Silver Champion Junior Filly Kamouneh Al Zobair, Silver Champion Yearling Colt Cyclone OS and Bronze Champion Yearling Filly Sheikha Al Juman.
The filly classes offered a strong competition. 2016 World Bronze Champion Yearling Filly Madinat Al Baydaa wowed the judges again. In her case, Al Baydaa Stud, Egypt, used RFI Farid on the late grey Ansata Sinan daughter TS Madeleine, tracing back to precious Tifla.
Dubai Arabian Horse Studs' reigning 2016 World Champion Yearling Filly D Ajayeb is out of the outstanding producing Ladi Veronika, herself sired by Versace and out of the Ansata El Nist daughter Nisrs Natevka.
Gold Champion Junior Colt Al Aryam Amgaad represents the breeding program of Al Aryam Stud, UAE. His dam is the grey WH Justice daughter Al Aryam Aleena, whose dam Gwyneth combines the influence of Ali Jamaal with the Polish bred heroes Aladdinn and Bask.
Another impressive magician looked out to his fortunate get at the Sharjah International Arabian Horse Festival. Shanghai EA is his name and he sired the Gold Champion Senior Mare Khamilah Albidayer as well as the Gold Champion Yearling Colt KA Nabras.
Khamilah Albidayer, proudly bred and owned by Al Bidayer Stud, UAE, is out of the Padrons Immage daughter Kadidjha de Jamila, combining Padron's influence with Muscat and a touch of Ansata blood.
Young and promising KA Nabras is proudly bred and owned by Khalid Al Omairi, UAE. KA Nabras' dam is bred by Ajman Stud, the grey AJ Nazwa by Egyptian bred Al Ayal AA out of Nowarat Al Khalediah by immortal Marwan Al Shaqab and out of a Padrons Psyche mare.
While Ahmed Al Talawy, owner of Al Baydaa Stud and breeder of Madinat Al Baydaa, was still celebrating the great success of his enchanting filly, a white guardian entered the ring, Aja Angelo. This magnificent WH Justice son out of Aja Aaisha by Ruger AMW out of FS Anastasia, bred by Aja Arabians, UK, and proudly owned by Al Baydaa Stud, represents perfectly the inner and outer beauty of the classical Arabian horse. He can already look back to several international championships. Now Aja Angelo returned to the Middle East and achieved Sharjah Gold Champion Senior Stallion.
The fantastic Sharjah Equestrian & Racing Club, who hosted the International Arabian Horse Festival, closed its doors after three days of excitement. However, the next exciting event is just around the corner. In two weeks, from 16. – 18.03., the Dubai World Trade Center will host the Dubai International Arabian Horse Championship for more extraordinary moments. Maybe we will witness more hat-tricks!