A Must Experience
Published on the 30th of April 2017 by Susanne Bösche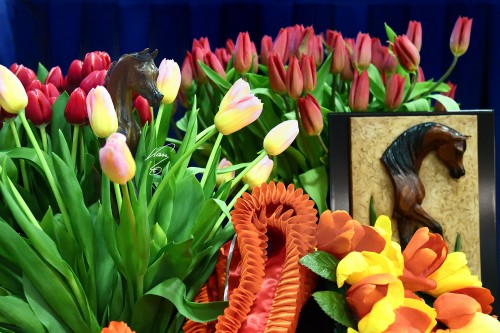 A vast kaleidoscope of bloodlines, tulips, and the start of a new European show season – that's the Tulip Cup in Ermelo, Holland, a must experience.
The striking colours of the flowering tulip bulbs are a typical sight in Holland during the spring. Tulips have deep cup-shaped blossoms of various rich colours; the vibrant yellow, orange, bright red, and pink colours are overwhelmingly beautiful and are a must see, or should we say a must experience!
The vast patchwork of kaleidoscopic coloured tulip fields hails in the new season from early April to early May. The tulip is chained with Holland though the cultivation of the tulip began in Persia, probably in the 10th century. The tulip – from the Persian word dual band or Turkish tülbend, which means turban - deserve the name as her shape reminds to that of a turban
It is always delightful to meet new and familiar faces at the Tulip Cup showground. After the long winter, many breeders come to this ECAHO B-show, perfectly organized by the Kuijf and Delvalle family, to enjoy the friendly atmosphere and exquisite Arabian horses.
A glance at the list of the former "Tulip Cup Best In Show" winners reveals many prominent names; among them horses is Malikat Al Moluk, who won in 2016, but also Aja Angelo (2015), Emira (2012), Pandoraah (2006), Eternity Ibn Navarrone D (2004) or Princess Of Egypt (1999). It is easy to see, the Tulip Cup has a long successful history and the winners may be among the very special, highly admired celebrities at the end of the European season.
Something special showed Ajman Stud, UAE. Ajman Stud's six years old stallion AJ Mardan, who already sired a European Triple Crown winner – AJ Azzam, proved himself again as a valuable heir of the Vervaldee–Versace-sireline. AJ Mardan is the sire of Tulip Cups Unanimous Gold Champion Yearling Colt AJ Radman, Bronze Champion Junior Filly Aj Adab, and Gold Champion Yearling Filly AJ Norah, who also won unanimous Most Classic Head of Champions. The bay beauty AJ Norah, out of Inspired Najla, has stolen Elisa Grassi's heart yet. "I'm so in love with this filly," Elisa goes into raptures. "Since the day AJ Norah was born, we knew she was going to be something beyond special. And she sure is... in every way!"
The grey two years old DA Alihandra, by EKS Alihandro is also special to her breeder and owner Cornelia Kolnberger, Austria. DA Alihandra achieved Gold Champion Junior Filly and traces back through her dam DA miss Justice to Cornelia's prized foundation mare Riva, by Narew out of Rawayeh of the precious Rodania bloodline.
Knocke Arabians, Belgium is the proud breeder and owner of unanimous Gold Champion Junior Colt Magnums Volcan KA, by QR Marc out of the Magnum Psyche daughter FS Magnum Madonna.
Ajman Moniscione is the sire of both, Gold Champion Senior Stallion and Senior Mare. The stallion Khaled Al Hamad, out of Magnificent PPA – again a Magnum Psyche daughter, was bred by Nina Novembre, USA, and is now proudly owned by HH Sheikh Hamad Khaled Al-Sabah, Kuwait. The lovely chestnut Delight's Diva RB, bred by Adriana Espindola de Moura, Brazil, and owned by Khalid Bin Said Bin Abdullah Al-Sayed, KSA, was the unanimous choice for the senior mare championship as well as for the "Best In Show" with the youngsters AJ Norah and AJ Radman on the second and third place.
Delight's Diva RB, out of Hiney's Delight RB by JJ Senior Magnum – again Magnum Psyche on this side of the pedigree – is no newcomer to the showring; with her charming attitude, her striking movements and elegant type she had achieved 2015 Menton Gold Champion Junior Filly.
The Best Foal Trophy was dedicated to the late Hennie Kuijf with the chestnut colt Mauh'oub Al Shahania, by Barzan Al Shahania out of Nirah Meia Lua, bred and owned by Al Shahaniah Stud, Qatar, as the proud winner.
Another special award, sponsored by Forelocks Arabians, was given to Miriam van Heiningen, the proud owner of the wonderful grey stallion AR Fayyim. Isabelle López van Breemen, Holland, bred the Valerio Ibn Eternity son out of Aicha SVA. AR Fayyim earned 90,94 points in the class of 7 – 9 years old stallions, carefully handled by Eric Dorssers, and therefore was the Best Dutch Horse.
As the European show season progresses we will see which of these excellent horses we will meet again in the one or another class or even championship. What is even more important – that each single Arabian horse, show winner or not, means something special to its breeder or owner.