All promise outruns performance
Published on the 18th of January 2017 by Susanne Bösche
"All promise outruns performance." ~Ralph Waldo Emerson (1803 – 1882)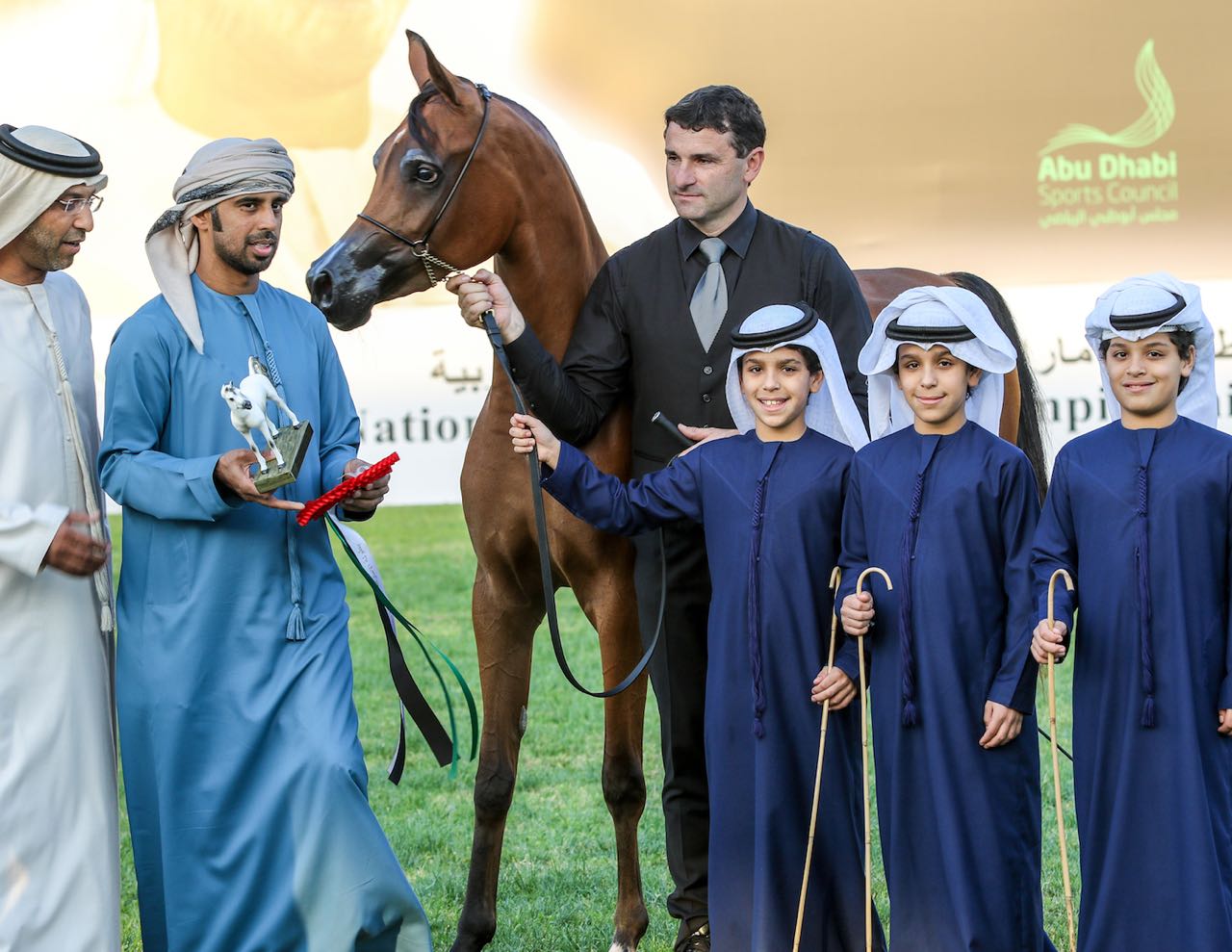 Every foaling season is filled with dreams, a breeder's heart makes. Every foal is a promise of tomorrow combined with the hope of dreams coming true. The first two days of UAE National Championship convey some breeder's wildest dreams became true.
Watching the filly and young mare classes was like watching celebrities lined up for the Oscar night; the fillies' performance outran all promises.
Among the hauntingly beautiful fillies was two-years-old Ghalyah Al Hawajer, a chestnut daughter of bay FA el Rasheem, who inherit her color from her dam, the chestnut Valentyna F by Psytadel, back to Russian bred Veranda and Karta. Bred and owned by Al Hawajer Stud, Ghalyah Al Hawajer received with 92,5 points the highest points of day one.
Among the seven classes for yearling fillies, the light grey Aj Nurai stood out with 92,3 points, highest score of all yearlings. No wonder, success runs in family as Aj Nurai is the little sister of 2015 Triple Crown Champion Aj Azzam, proudly bred and owned by Ajman Stud. Their young sire Aj Mardan by Vervaldee and Versace is doing just great for this breeding program, not only on Aj Nurai's dam Ysadora by Marwan Al Shaqab.
Ajman Stud celebrated another achievement on the second day, again with a mare from a fortunate family. Aj Saray left the place with the highest score of 93,25 points. The two years old Marwan Al Shaqab daughter is a bay, just like her amazing full sisters, 2011 Unanimous World Gold Champion Filly Aj Sawahi and ANC Gold Champion Yearling Filly Aj Sawari. The dam of both beauties is Brazilian bred Siberia SA by Nuzyr HCF to Aaladdinn and Ali Jamaal out of Eternia SA, tracing back to Babson bred Fa Deene by Fadl and Bint Serra I.
The third day of this five-days-event with more than 600 horses in 42 classes will see the senior mares and five classes for yearling colts.