Final Decisions Made
Published on the 20th of January 2017 by Susanne Bösche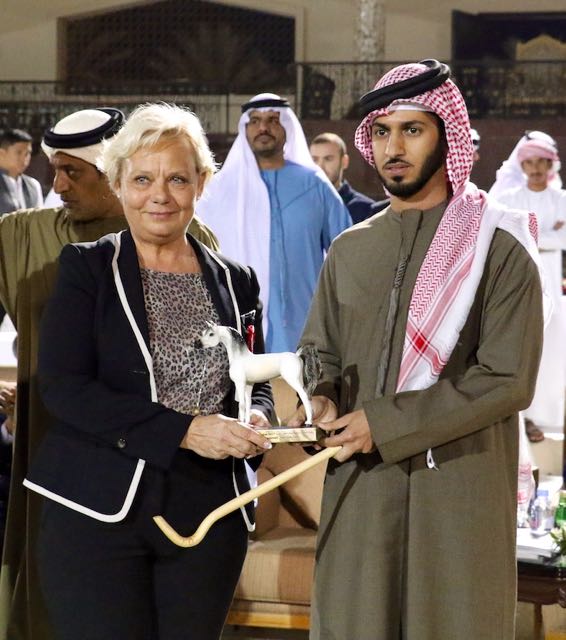 Decisions need to be made, though at Arabian horse shows. After exciting four days there was no chance to enjoy some peace on the fifth day of UAE National Championship. From the first day of the show everybody was already excited for Friday - the championship day, when the judged made his or her top choices.
The show saw two different kind of championship, the UAE National and the UAE National Local. Every first and second horse in each class is qualified for the UAE National Championship. The places three and four are, provided a Sheikh does not own them, are competed in the UAE National Championship Local, a great way of the Emirates Arabian Horse Society (EAHS) to support the smaller breeders.
"The future looks promising for the UAE," says judge Marianne Tengstedt, Denmark (photo above). "In the general quality you see that the horses had to qualify themselves for this show. Especially the quality of the fillies was very high." Marianne continues: "I also like the prize money system at this show, which keeps the spirit going. It doesn't matter if you have placed first or tenth in a class, you receive the same amount of money so there is no need for jealousy."
National Championship Local
Among the National Champions Local two international well-known farms were successful: Al Saqran Stud won the Gold Champion Senior Mare with the lovely bay Marajj daughter My Fair Rose D, who Mr Bassem Al Saqran purchased at the Schouckens Training Center Auction last September. Al Hawajer Stud's Shahd Al Hawajer, sired by the internationally renowned El Nabila B, followed my Fair Rose D as Silver Champion.
Al Hawajer Stud also bred the Bronze Champion Senior Stallion Bahy Al Hawajer by RFI Farid, now proudly owned by Al Ghadeer Arabian Horse Stud. Gold Champion Senior Stallion went to ABD Justinian, a Rough Justice son bred by Vicki and Doug Niles and owned by Al Jazeera Arabian Horse Stud. The 2016 World Platinum Champion Stallion Royal Colours sired the Silver Champin Stallion D Al Hareth, bred by Dubai Arabian Horste Stud and owned by Al Tayar Stud.
Mr Ali Ghanem Ali Humaila Almazrouei took home two titles with his yearlings: The Kahil Al Shaqab son Yas BHM won Gold with the colts, just like his paternal half sister Zara BHM with the fillies. Mr. Ali Ghanem also breeds the Bronze Champion Yearling Filly Asrar BHM by Marajj, but this time owned by Naser Ahmed Ali Bindahi Al-Ali.
National Championship
Four out of six National Champions are owned by Ajman Stud and what made it even more delightful for HH Sheikh Ammar Bin Humaid Al Nuaimi and his team: Three of the four have been selfbred.
AJ Mardan again proved his potential with the exquisite grey Gold Champion Yearling Filly AJ Nurai out of Ysadora, making her a full sister to 2015 Triple Crown Champion AJ Azzam. Two by S.M.A. Magic One daughters won Silver and Bronze, Aajilah Al Zobai respectively Marwa Albidayer.
S.M.A. Magic One also sired the Gold Champion Junior Filly Suhaila Al Zobair out of HCE Magdonna, while Silver winner Ghalyah Al Hawajer and Bronze winning Rasha Albidayer are both by FA El Rasheem.
Silver and Bronze in the Yearling Colt Championship for FA El Rasheem get: D Shallal out of D Shahla, doubling the Marwan Al Shaqab influence, won Silver and Bronze went to Shahwan Al Hawajer out of Joharat Al Hawajer. Hanaya Stud's HL El Ganador by HP Shakir Te out of Lonco Baby Maria achieved Gold.
After receiving the high score on day four, AJ Jabran by Kanz Albidayer completed his success by garnering Gold Champion Junior Colts with the Marajj grandson Omear Al Hawajer winning Silver and Bronze for MDS Al Solei by Marajj himself.
The ethereal Felicia RLC by Shael Dream Desert, bred by Rodingo Lotuzi de Casho and proudly owned by Ajman Stud, gracefully left the arena as Gold Senior Champion Mare. Marwan Al Shaqab is the sire of Silver winning PA Livia, bred by J. Frank Chisholm, owned by Ali Ghanem Ali Humaila Al Mazrouei. Bronze went to Polish bed Egema by Esparto, born inside Bialka and owned by Mandara Arabian Horse Stud.
The influence of highly appreciated Vervaldee can be found in Ajman Stud's Gold Senior Champion Stallion AJ Marzan through his sire AJ Portofino. Al Aryam Stud enjoyed the Silver Championship with Al Aryam Baree, who's sire Al Bilal by Al Maraam is straight Egyptian bred while the dam Al Aryam Balkeas is by Gazal Al Shaqab out of the Russian bred Batala. The Bronze winner S.A. Almoshaher by Al Ayal AA out of FS Cayenne was bred by Ajman Stud, too, but is now owned by Mohammed Sai Ali A. Lemshourab Al Hebsi.
The UAE Nationals were also an opportunity for the breeders to qualify their horses for the Abu Dhabi International Arabian Horse Championship, held from 11. – 15.February – brought to you by ArabianHorseResults.com.