Quality is never an accident
Published on the 19th of January 2017 by Susanne Bösche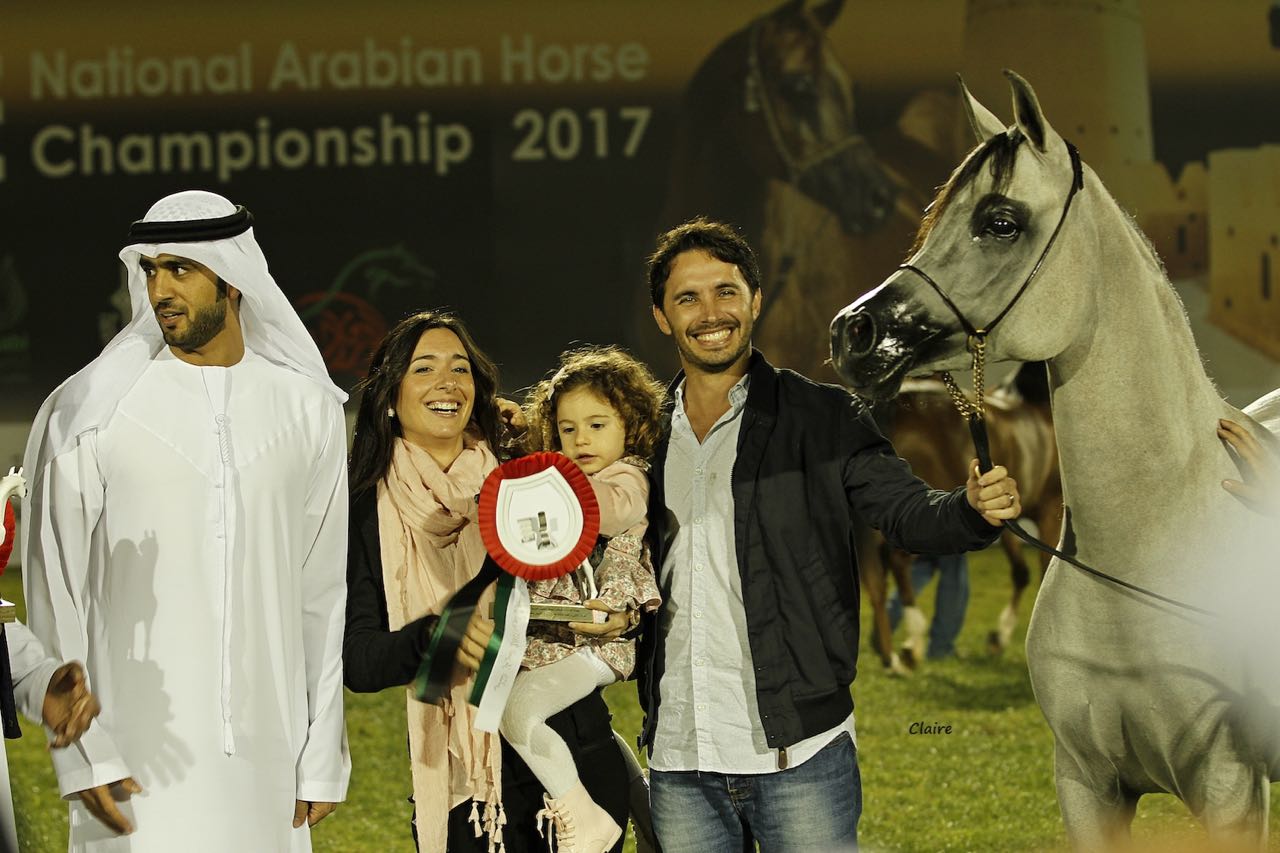 Evening is coming, and the sun is slowly setting on the fourth day of UAE National Championship. Another busy day lies behind all people involved, breeders, owners, trainers, handlers, judges, and the excited audience. The results as well as a look into the pedigrees of the horses make clear quality is never an accident.
"I am so impressed by not only the number of horses here, but by the quality," says Riyan Rivero, Multimedia Director of Arabian Horse Times, who is for the first time in Abu Dhabi. "From my perspective, the management in incredible, the atmosphere is relaxed yet entertaining and all the people working at the show have been truly great to work with!"
Everybody seems to leave the place with a big smile, even the owners of horses placed down the line. A tenth place is celebrated like a win at the All Nations Cup in Aachen. It is not only the honor to garner a placing in such a strong competition; it is also the cheque that is passed with every ribbon, which makes the owners happy.
"It is hard work but enjoyable," says judge Peter Gamlin. "We saw many special horses here. You also get a tail ending in the very big classes but the top horses are always special."
On the fourth day we saw the colts classes and one senior stallion class. The high score of the day received AJ Jabran, the acronym reveals its breeder: Ajman Stud. His sire is the bay Kanz Albidayer by Ajman Moniscione while AJ Jabran's dam DA Princess Of Justice doubles the influence of WH Justice as she is a direct daughter of the champion maker. AJ Jabran's female grand dam is DA Enfihda and back to the Rawayeh by Kais I. Rawayeh, tracing back to Rodania, was an influential broodmare in Austria, especially through her Narew daughter Riva.
FA El Shawan sired the winner of the first senior stallion class of this UAE National Championship. Malgorzata and Josef Pietrzak, Poland, bred the bay Lord Of Shawan in 2013 out of Lady Serenada by Ekstern and on the female side back to Monogramm and Gildia. Abdulla Rashed Khusaid Bin Khusaid Alnuaimi is the proud owner.
More of them we will see Friday afternoon, more senior stallions and - of course - the championships.
Stay tuned!